What is an Ecommerce Store?
Before starting, let's understand what an ecommerce store is. An ecommerce store is a business that sells your services and products online. This includes anything from clothes, beauty products, and physical goods to digital downloads. Online stores can exist in several formats, in online marketplaces like eBay, Amazon, or standalone websites. Also, you can set up your stores on several platforms, Like Shopify, WordPress, Magneto, and more. In this blog, we will help you start a Shopify Ecommerce store best suited for your business.

Why do You Need to Start Ecommerce Store?
There are a bunch of reasons to list why you should start an online business. The benefits of starting an ecommerce business range from better profits to more client retention, satisfaction, and engagement. Here are the top three benefits that you should start an Ecommerce business.
1. Vast Audience for your Business:
The Pandemic has provoked the growth of the Ecommerce Industry; more shoppers have come online.
As per statistics

,

on average, internet users spend 401 minutes online, which is the main reason to start your business online.
Source: oberlo.com
You can get anyone as your customer, regardless of their geographic location, as long as they have an internet connection.
2. Shop 24/7:
While you sleep, you can make money. You'll do the bare minimum of effort by automating business procedures. You may concentrate on marketing and growing your company.
3. It's Cheaper than you think:
The one thing limiting you from starting your store is the concern about starting capital; you might think that establishing a good online store can be heavy on your pocket, but that's wrong! Taking into account its strengths and technical specifications may seem expensive, but in reality, it's cheaper than you think.
What do You Need to Start Ecommerce Store?
Before starting your Shopify e-commerce store or any other online store, you need the following two things;
1. Domain Name:
As you decide on your business name, you must get a Domain name for online identity. Therefore, selecting a unique domain name is crucial as you do with real-world business.
2. Web Hosting Account:
Having a domain isn't enough; you need a robust web hosting account to host your e-commerce store. You can opt for the best web hosting providers; if you need clarification about which solutions to choose, you can check out the best providers from the web hosting marketplace.
Which Platform is Best to Start Ecommerce Business -Shopify or WordPress?
Before launching your online store, you might have already researched the tools to help you establish your store. Shopify and WordPress are popular brands in the e-commerce industry, with a reputation for flexibility, simplicity and superb usability. Let's have an overview of Shopify and WordPress.
Shopify
Shopify is a leading web application designed to help merchants design and build relevant online stores. If you are looking for an Ecommerce platform that can give you a domain name, your Ecommerce plugin, a shopping cart and other vital features, then Shopify is best suited. It comes with a wide range of themes and templates, which you can customize to suit your individual requirements and branding needs.
Let's Explore the Pros and Cons of Shopify
Pros of Shopify
Easy to create and customize under one roof.
You don't need more technical knowledge and quickly launch your store.
You don't need to pay additionally for hosting or security.
Cons of Shopify
There are no more cons as it's very simple to easy, just like the drag-and-drop platform.
WordPress
First, you need to know that two types of WordPress are available.
Wordpress.com
and
WordPress.org
. So, Wordpress.com is a blogging platform that works like a website builder, enabling you to create your website easily. At the same time, Wordpress.org is a more technically advanced self-hosted software. Unlike Shopify, WordPress doesn't come with an e-commerce set-up, but you can install some great plugins to start your e-commerce store. You can install a WooCommerce plugin to turn your WordPress site into an online store.
Let's Explore the Pros and Cons of WordPress
Pros of WordPress
Flexible and user-friendly, it also allows customization.
You can select themes from various themes and templates available.
A budget-friendly option for small to medium-sized business needs.
Cons of WordPress
You need to install a separate plugin like WooCommerce to run your online store.
You may need decent technical knowledge to utilize the platform.
A Closer Look at Shopify and WordPress: Understanding the Differences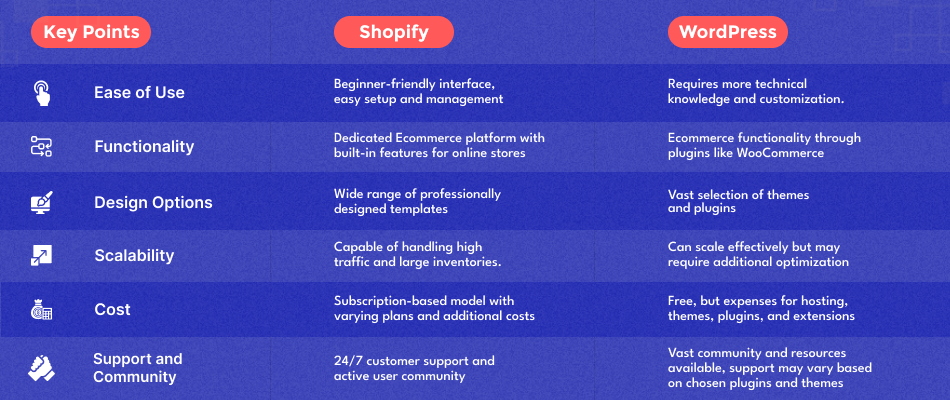 Key Reasons to Use Shopify instead of WordPress
For starting an e-commerce business, Shopify, as the name suggests, is entirely related to commerce. Every factor is created and designed to help companies to grow and prosper. This includes an e-commerce website builder, inventory and order management tools, and integration with online sales channels like Facebook, Amazon, eBay, Instagram, etc. Moreover, Shopify also has its point of sale (POS) solution for companies wishing to combine their online and offline sales into a user-friendly dashboard. Unlike Shopify's out-of-the-box commerce solution, WordPress does not include e-commerce functionality, so you need to install an e-commerce plugin. Also, speaking about payment gateways, to sell online or open your e-commerce store, you need a payment gateway to facilitate transactions. Popular payment gateways include PayPal, stripe, amazon pay, and others. Shopify seamlessly integrates with 100 payment gateways. Also, it has its own gateway named Shopify Payments, which makes managing online payments easy. You might be clear that you can quickly develop your e-commerce store with Shopify. So, let's explore and understand the steps of starting a Shopify e-commerce store.
Steps to start a Shopify Ecommerce store
Research the Ecommerce Business Model
Define your Target Audience and Niche
Sign up for a Shopify account
Add Items to Sell
Create Pages for Your Website
Customize Your Store Using a Theme
Payment Gateways and Shipping set up
Don't Hesitate to Hire a Shopify Expert.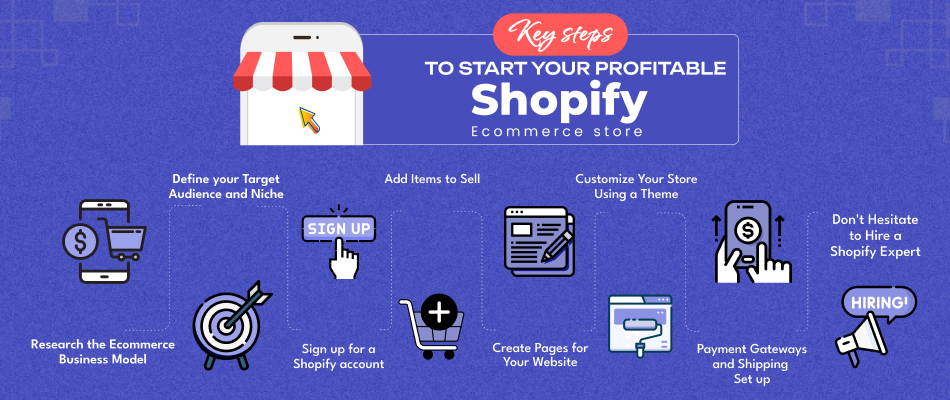 1. Research the Ecommerce Business Model
Beginning your research is a vital step. There's no single business model that works for everyone. Service-based business, software, digital product sales and physical products are examples of the business model. So, before deciding what products to sell online, you must recognize the different business models available.
Dropshipping:
Dropshipping business models are the most straightforward way to start your Shopify e-commerce store with manufacturers and fulfilment centres to store, pack and ship products on their behalf. This allows the businessman to operate without inventory risk or upfront investment. Moreover, Dropshipping is the best e-commerce business model for new entrepreneurs as it's easy and requires minimal financial investment.
Wholesale retail:
This is also similar to dropshipping but has a few key differences. Wholesalers purchase products in bulk from manufacturers at discounts and then sell them online at retail prices. But it requires more time and effort than drop shipping, as you are fully responsible for packaging, manufacturing and shipping your products.
Private/White Label:
This is another business model; with private labelling, you have products manufactured and designed for your business. This Ecommerce model is best suited for businesses that want to develop their brand and manage and have more control over their products.
2. Define your Target Audience and Niche
Your target audience is more critical than your niche, so many businesses need to focus on your niche. So, while defining your niche, you must focus on three components: profitability, searchability and passion. You should find a niche that provides profitable outcomes. The second vital component is searchability. You need to search your niche and do research by using SEO tools. The third essential component is passion because when you are passionate about what you sell, you will be more likely to stick with it when times get tough. Therefore, your clients can easily reach out to you as an expert when you are passionate about your products because you better know the products compared to them.
3. Sign up for a Shopify Account
Now as you have decided on your business model and defined your target audience, signing up for a Shopify account is the next step. Shopify has simplified the process of creating your e-commerce store in a single click easily. The only thing you must do is Go to
Shopify.com
, click ''start your free trial,'' enter your store name, and create your shop.
4. Add Items to Sell
Now it's time to decide what products you need to highlight on your Shopify e-commerce store. This can be harder in the beginning, but later it may seem more manageable. Make sure that you are selling products that are too expensive to produce or that are less demanding. Moreover, it is also vital to ensure that you have the resources like shipping and storage to accommodate your products.
5. Create Pages for Your Website
Add pages like Homepage, about, FAQS, Items and more. You can also create product pages to highlight and brand your products per your requirements and customize the pages according to your brand and business needs.
6. Payment Gateways and Shipping Setup
With the Shopify Ecommerce store, you can also set up payments using Shopify payment, as it allows you to accept payments, including credit cards, Stripe, Amazon Pay, PayPal and more. In addition, you can set up free, flat, or calculated shipping rates that appear in the checkout for your customers.
7. Customize Your Store Using a Theme
This is the best option for setting up your e-commerce store, as there are dozens of themes in the market. You can choose as per your requirement. Speaking about the best Shopify theme, the
Yuva theme is one of the best ecommerce themes
in the market, allowing you to develop your Shopify e-commerce store per your business requirements.
8. Don't Hesitate to Hire a Shopify Expert
Once you have set up your Shopify e-commerce store, you still need guidance to upscale your business, this is where the Shopify expert comes in. Shopify experts can help you boost your online store's productivity and growth. Also, you can quickly grow your business from scratch and get custom solutions. So, if you want to accelerate your business with robust ROI,
Hire Shopify Experts
and get all your solutions under one roof.
Check this comprehensive guide on how to find a Shopify expert.
Wrapping Up
Starting a Shopify Ecommerce store can be an exciting and fulfilling journey. In this guide, we have covered the vital steps that will help you kickstart your online business successfully. If you still need more guidance on starting a Shopify e-commerce store, hire a Shopify expert or
custom Shopify development services
provider and you can get everything you need to grow your business.
Looking to kickstart your Shopify e-commerce store? Contact us now for expert assistance!