As a business CEO, having an expert's guidance can transform your online business and maximize the potential of your online store. Shopify experts possess extensive knowledge and experience in various platform aspects, from design and development to marketing and optimization.
Nowadays, many businesses think that hiring a Shopify expert can be more expensive. So, in this blog, we will address a common question among companies: "How much does a Shopify expert cost?" Before directly jumping on this question, let's start with the basics.
How Much Does a Shopify Expert Cost? 
The cost of hiring Shopify expert can change depending on various aspects like challenges of customization, the scope of your project, required expertise, and the specific services you need. Each Shopify expert may have their pricing structure and rates depending on their experience and the values they provide.  
Shopify Expert Cost:
Services

 

Average Rates

 

Beginner

 

$25 to $50

 

Intermediate

 

$50 to $120

 

Experts

 

$100 and above

 

Custom development services

 

$10,000 to $20,000

 

*

Note:

:

 

Pricing is subject to fluctuations based on prevailing market conditions and specific client needs.
You should contact us to get an accurate understanding of pricing and to discuss your specific requirements. We can provide more information about the pricing structure and offer personalized quotes depending on your project requirements. This will give you a precise understanding of the costs involved, and you will make an informed decision depending on your budget and the value you expect from their services.
Who is a Shopify Expert?
The right expertise and guidance are crucial when building and growing a successful online store. That's where Shopify experts come into play. A Shopify expert is a professional or agency that provides various services related to the Shopify e-commerce platform.    
A Shopify expert has deep knowledge and experience working with Shopify, enabling them to offer expert advice, support, and solutions tailored to the specific requirements of online merchants. They are pros in the platform's functionalities, features, and best practices, enabling them to assist businesses in optimizing their Shopify stores and driving success.   
What do Shopify Experts do?
Shopify experts play a vital role in helping businesses maximize the potential of their Shopify stores. These professionals possess specialized knowledge and expertise in various aspects of the Shopify platform, enabling them to provide valuable services and guidance. Also, Shopify experts assist businesses in setting up their online stores from scratch. They handle tasks like shipping options, configuring payment gateways, tax settings, and other crucial aspects to ensure a seamless and functional store setup.
Shopify experts assist businesses in setting up their online stores from scratch. They handle tasks such as configuring payment gateways, shipping options, tax settings, troubleshooting, custom functions, theme customizations, and other crucial aspects to ensure a seamless and functional store setup. They also optimize store settings for optimal performance.   
How to find a Shopify Expert 
You may have a lot of money to hire a Shopify expert to enhance your online store. So, ensure that the cost of hiring a Shopify store is manageable in your pocket. Here are some tips for Hire Shopify Experts.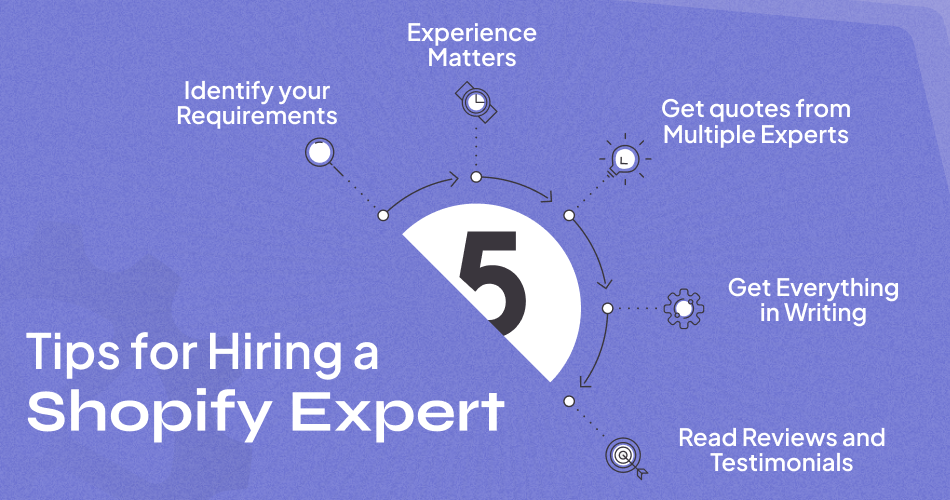 Tips for Hiring a Shopify Expert
Identify

your requirements
Before beginning the hiring process, define and identify your requirements and goals. Determine the specific skills and expertise you need from a Shopify expert. This will help you identify candidates with the appropriate qualifications and experience for your project.
Read Reviews and Testimonials
Remember to check out testimonials and reviews from previous clients or employers. This will provide insights into the Shopify expert's professionalism, communication skills, and ability to meet deadlines.
Get quotes from multiple experts

 
Get quotes from several Shopify experts before making a final decision. This enables you to compare pricing services offered and the costs provided by each expert. By gathering multiple quotes, you can make a more informed decision depending on your budget and the expertise provided by each candidate.
Experience Matters

 
Ensure that the Shopify expert you hire has good experience and expertise in your needs. Shopify provides top-notch features and functionalities like app integration, theme customization, SEO optimization, payment gateways, and more.   
Get Everything in writing

 
Once you select a Shopify expert, it is vital to establish clear expectations and protect both parties by documenting all agreed-upon terms in writing. This includes product scope timeliness: deliverables, pricing, and other additional terms or conditions.
Why do you need to hire a Shopify Expert? 
Shopify is a popular eCommerce platform enabling businesses to manage and create online stores. While Shopify has a platform interface and numerous built in-features, there are instances where hiring an expert can help maximize the platform's potential and address specific business requirements. Hiring Shopify Developers can be beneficial for several reasons.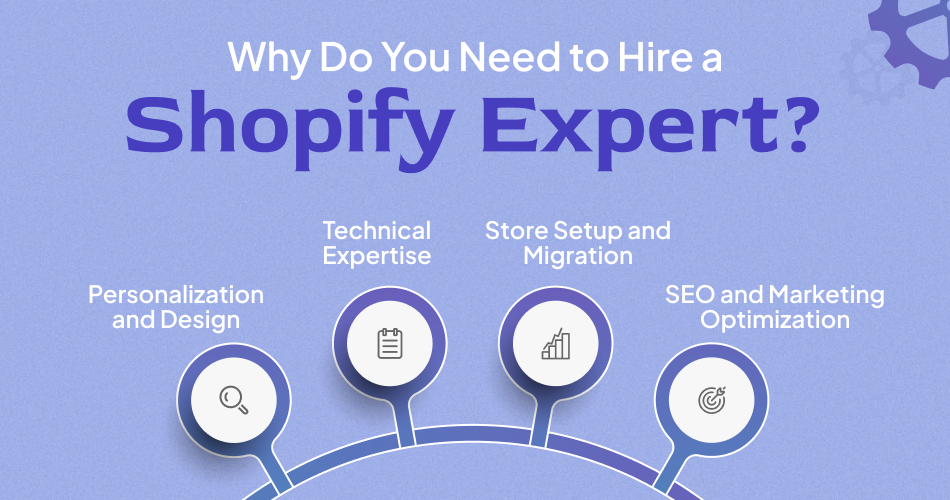 Personalization and Design
A Shopify expert can help you develop and create a visually and unique appealing online store that streamlines your brand identity. They have expertise in personalizing themes, modifying layouts, and implementing custom designs to develop and design an engaging and professional storefront that stands out from competitors.
Technical Expertise  
Shopify experts have in-depth knowledge about the Shopify platform's functionalities and features. They can assist with advanced configurations, API integration, third-party app installations and troubleshooting technical issues; Their expertise ensures that your store operates efficiently and smoothly.   
Store Setup and Migration
A Shopify expert can handle the entire setup process if you are starting a Shopify Ecommerce store or migrating from another platform to Shopify. They can assist with product import, payment gateway, collection creation, and Shipping configurations and make sure a seamless transition to Shopify.   
SEO and Marketing Optimization
Driving traffic and increasing conversions is crucial for the success of an online store. A Shopify expert can optimize your store for SEO, implement marketing strategies, set up marketing campaigns, integrate social media channels, and provide guidance on improving your store's visibility and reaching a wider audience.
Factors that affect the cost of hiring a Shopify Expert 
The cost to hire a Shopify expert depends on various factors and can vary depending on the project complexity, an expert's experience and availability. Also, It is vital to research the expert before deciding to ensure you get the best deal for your money. Here are some factors that may affect the cost of hiring a Shopify expert.
Expertise

and Experience 
A Shopify expert's level of expertise and experience can impact their pricing. Experts with a proven track record, extensive platform knowledge and specialized skills may possess higher feed due to their expertise and ability to deliver high-quality results.    
Geographical Location
Rates may differ depending on the cost of living and market demand in the different regions. Experts depending on areas with higher living costs or greater service demand may charge higher fees. The geographical location of the Shopify expert can increase the price.    
Scope of Work
Suppose you require assistance with the complete store setup, customization and integration of multiple apps. The challenges and scope of the project or task you need the Shopify expert to handle can impact the cost. It will likely involve more time and effort, resulting in higher pricing than smaller, specific tasks.
Consultation and Strategy Development
It may include add-on charges if you need consultation and strategic guidance for your e-commerce business. Shopify experts who provide in-depth consultations, analyze your business requirements and develop tailored strategies to maximize your store's potential may charge higher rates for their insights and expertise.
Bottom Line
The cost of hiring a Shopify expert can vary depending on your specific requirements. It's vital to note that each Shopify expert may have their pricing structure depending on their expertise and the value they bring. Always remember, investing in a knowledgeable and experienced Shopify expert can yield long-term benefits such as a well-optimized online store, enhanced customer experience and increased conversions.