Shopify is among the top e-commerce platforms as over 4.3 million eCommerce sites are built with it
(
Builtwith.com
).
More than creating your web presence through Shopify is required; you need Shopify experts to optimize your store and help you take your business to the next level. But being a beginner, you may be confused between hiring Shopify agencies or Shopify freelancers
In this article, we will explore the unbiased comparison of Shopify Freelancers vs. hiring Shopify agencies, guiding you to the perfect fit for your project. We aim to provide you with a poised perspective, enabling you to navigate this decision professionally and clearly.
Understanding the Basics
Who are Shopify Agencies?
Shopify experts agencies are organizations or companies that have expertise in offering a wide range of services related to the Shopify eCommerce platform; these agencies are well-versed in the marketing aspects of creating and maintaining online stores utilizing the Shopify store. They work with businesses of various sizes, from Solopreneurs and startups to well-developed brands, to guide them in setting up, managing, and optimizing their online stores on the Shopify platform.
Shopify Agencies typically have a vast team of Shopify experts with different skill sets, including designers, digital marketers, developers and e-commerce strategists. Their core strengths include technical expertise, Shopify store set-up, customization, various Shopify themes and design, eCommerce strategy, customer maintenance and support.
Who are Shopify Freelancers?
Shopify freelancers are independent professionals who provide their services project-by-project to different clients. They often work remotely independently and have the flexibility to select the project they want to work on and manage their schedule. Shopify freelancers can specialize in various fields, from design and writing to programming and marketing.
These freelancers provide their expertise to businesses seeking assistance setting up, customizing, and managing their online stores using Shopify.
Shopify Expert Agency vs Freelancers: Comparison Table
Aspect

 

Shopify Agency

 

Shopify Freelancers

 

Cost (Hourly Rates)

 

$33to $250

(Price may vary depending on requirements)

 

$15 to $150 (

Price may vary depending on requirements)

 

Scale of Operations

 

Handle Larger projects for all sizes of companies from small to large size

 

Typically handle smaller to medium-sized projects

 

Skill Diversity

 

Offers a range of specialized skills within a team

 

May have focused expertise in a specific area

 

Communication

 

Usually, a dedicated point of contact for smoother communication

 

Direct communication with the freelancer

 

Availability

 

May have set working hours and less immediate availability

 

Availability can vary; some freelancers offer flexible hours

 

Reliability & Structure

 

Generally, follows a structured approach with established processes

 

Reliability may vary based on individual freelancers

 

Turnaround Time

 

Can handle tight deadlines by assigning tasks to appropriate experts

 

Turnaround time may vary based on the freelancer's workload

 

Ongoing Support

 

Often provides consistent ongoing support and maintenance

 

Ongoing support may be available but may vary in consistency

 

Contractual Formalities

 

Typically has formal contracts and agreements

 

May have simpler contract or agreement terms

 

Scope for Personalization

 

Offers more customization and tailored solutions

 

Can provide personalized attention to specific client needs

 

Resource Redundancy

 

Has backup resources within the agency for uninterrupted service

 

Relies solely on the freelancer's availability

 
Advantages of Hiring Shopify Agency
1. Comprehensive Shopify Services
Shopify agencies provide a wide range of services under one roof. They typically have a diverse team of experts in various fields including web design, digital marketing, web development, and ecommerce strategy. This makes sure that your project receives comprehensive attention from professionals with specialized skills. Whether you need help with store setup, design customization, SEO, or marketing campaigns, an agency can provide a complete package of services tailored to your business requirements.
Also Read: How to Find the Right Shopify Expert- Detailed Guide 2023
2. Scalability
As your business grows, your e-commerce needs may evolve as well. Shopify agencies are equipped to handle projects of varying complexities and sizes. They have the resources and expertise to scale their services to your needs. Whether you are launching a small online store or expanding to a larger eCommerce platform, agencies can adapt and provide the necessary support to accommodate your growth.
3. Reliability and Structure
Hiring Shopify agencies can benefit your organization by streamlining your operations. They have established processes, workflows, and project-managed systems to ensure that tasks are handled seamlessly, and projects are delivered on time. Also, having a reliable structure in place minimizes the risk of miscommunications, delays or errors. You can ensure that your project will be managed with professionalism and attention to detail.
4. Ongoing Support and Maintenance  
You can directly contact your shopify development agency even at 3 a.m. This means that if any technical issues arise or if you need modifications or updates to your online store, the agency can provide timely assistance. Ongoing Support ensures the long-term functionality and health of your eCommerce platform, enabling you to focus on other aspects of your business.
Advantages of Hiring Shopify Freelancers
1. Cost-Effective
Hiring Shopify freelancers can often be more cost effective than working with agencies. Freelancers typically have lower costs, enabling them to offer competitive charges. This can be especially beneficial for startups or smaller businesses with limited budgets, as you can access specialized skills without the higher costs associated with agency services.
2. Direct Communication
When you hire a freelancer, you have direct communication with the individual working on your project. This streamlined communication ensures that your instructions and feedback are directly conveyed to the person executing the tasks. There's no middleman between you and freelance so this can lead to unbiased communication and a more efficient workflow.
3. Flexibility
Shopify freelancers often work remotely and can adjust their schedules to match your project's requirements. This flexibility is precious when you have specific time-sensitive projects with varying demands. Also, freelancers can adapt to your timeline and work on projects as required.
4. Specialized Expertise
Freelancers are known for their expertise in various areas. When you hire a Shopify freelancer, you tap into their experience and niche skills. This can lead to productive quality work in their specialized field, as they have a deep understanding of the latest market trends, techniques, and best practices relevant to their expertise.
Freelancers vs Shopify Agency – Who Should You Hire?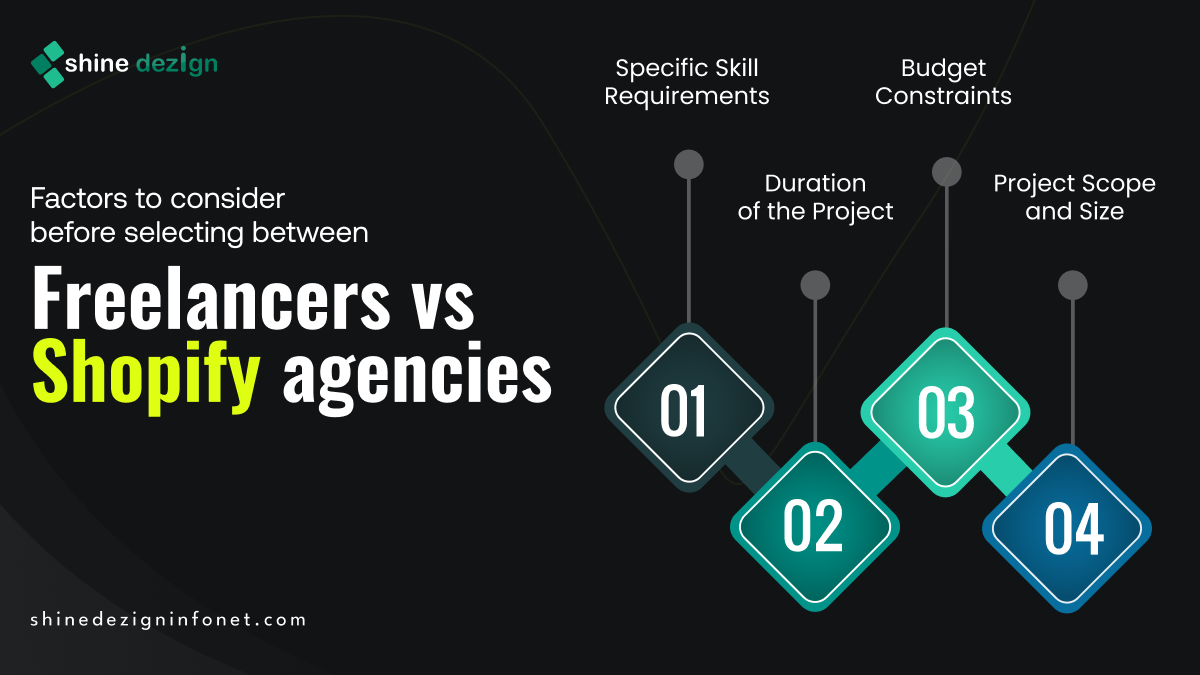 Before making the final decision between Freelancers or hiring Shopify agencies, it is essential to consider the following aspects:
1. Project Scope and Size
Freelancer: 
Freelancers are an excellent choice for minor to medium-sized projects requiring specific skills or tasks. If your project is focused and doesn't involve a complex range of services, hiring a freelancer can provide cost-effective expertise tailored to your immediate needs.
Shopify Agency:
When dealing with larger and more comprehensive projects that include various aspects like development, design, and marketing, hiring shopify agency is likely to be the more suitable option.
2. Budget Constraints
Freelancer:
Most businesses prefer freelancers, as they offer more competitive rates due to their low overhead cost and flexible working arrangements. If your budget is limited, hiring Shopify freelancers can provide cost-effective solutions while ensuring quality work.
Shopify Agencies:
Shopify agencies come with higher costs but can yield significant benefits, particularly for projects that need a holistic approach, intricate design, and well-coordinated implementation.  It can lead to a higher level of service and a more polished outcome. Therefore, when weighing your budget constraints, it's worth considering the trade-off between upfront costs and the potential long-term benefits that a Shopify agency can provide.
3. Duration of the Project
Freelancers:
Freelancers are adaptable for short-term or one-off projects. If you need a quick turnaround or have particular tasks that can be completed within a limited time, freelancers can provide efficient solutions. 
Shopify agencies:
Agencies are suitable for both short-term projects and long-term partnerships. If you require ongoing support, maintenance, or a project with multiple phases, an agency's structure can better understand your requirements.
4. Specific Skill Requirements
Freelancer:
If your project needs highly specialized expertise or skills in a specific category or industry, hiring a freelancer with that specific expertise can give you positive outcomes.
Shopify Expert Agency:   
Agencies provide a broader range of skills within a team. If your project requires versatile skills like development, design and marketing, an agency is the best choice as it provides comprehensive solutions that boost your business requirements. 
Final Thought
Among these considerations, it's vital to underscore the significance of evaluating your unique business requirements. Every project is distinct, requiring a tailored solution. Shopify Agencies will be the best option if you want desired outcomes, security and support, while if you are a beginner or small company, you can go with freelancers. Moreover, before hiring Shopify experts from agencies or freelancers, consider the project's size, scope, budget, timeline and specific skill demands.