Shopify is one of the leading platforms that empowers eCommerce businesses. Its user-friendly experience and wide range of features help every organization to stand out from the crowd. However, one vital aspect that drives expert attention is the implementation of secure Shopify payment gateways. 
Secure payment gateways are the backbone of any online business. They ensure that every client's financial information is protected during transactions, instilling trust and confidence in your online store. 
To gain this level of reliability and security, many Shopify store owners turn to Shopify experts. Therefore, in this blog post, we will explore why you need to hire Shopify experts to implement secure Shopify payment gateways.
How do Shopify payment gateways work?
A payment gateway is like a virtual bridge that links your online store to the vast network of banks, credit card companies, and payment processors. We can state that a Shopify payment gateway is a technology-driven intermediary that facilitates secure payment transfer information between a client's bank (or financial institution) and an online merchant. 
 So, when a customer adds a product to their online shopping cart and proceeds to check out, they are presented with payment options. They enter their payment details, including credit card information or other payment methods like PayPal.
The Payment gateways send the encrypted payment data to the client's bank or credit card company for authorization. Further, the bank checks the transaction against the available funds and security checks. 
Once the payment gateway initiates the transfer of funds from the client's bank to the merchant's account, this process can take a few working business days, but it ensures that the merchant receives the payment.
Top Payment Gateways for your Shopify store
Gateways

 

Supported countries and currencies

 

Transaction Fee

 

Chargeback fee

 

Shopify 

 

22 countries & 130 currencies 

 

2.9% to $0.3 per transaction 

 

$15 per dispute

 

Paypal 

 

200 countries & 25 currencies 

 

2.9% to $0.3 per transaction  

 

$20 per dispute 

 

Stripe

 

47 countries & 135+ currencies 

 

2.99% to 0.3 per transaction 

 

$11 per dispute 

 

Amazon Pay

 

16 countries & 12 currencies 

 

2.9% +$0.3 per transaction

 

$20 per dispute

 

Verifone 

 

200+ countries & 100 currencies 

 

3.5% to $0.35per transaction 

 

$18 per dispute

 
Benefits Of Choosing Payment Gateway Integration 

 
Secure Transactions: 
Shopify payment gateways offer an encrypted and secure environment for seamless transactions. They utilize industry-standard security protocols to protect sensitive client data, reducing the risk of data breaches and fraud.
Low Risks:  
Shopify payment gateways have advanced Fraud prevention tools and risk management features. They help online businesses identify and prevent fraudulent transactions, lowering chargebacks and financial losses. 
Automated Payment Processing 
Setting up Shopify Payment gateways can automate subscription billing and recurring payments. This is especially useful for businesses that provide subscription-based services or products, as it ensures a steady revenue stream.
Faster Payment Settlement  
Shopify payment gateways provide faster funds settlement than traditional payment methods like cheques. This can help businesses to manage their accounts and finances more effectively and improve cash flow.
Improved Credibility  
Providing reliable and secure payment options through integration with reputable payment gateways can boost a business' credibility and trustworthiness among clients.  
Why must you hire Shopify Experts to implement Secure Payment Gateways?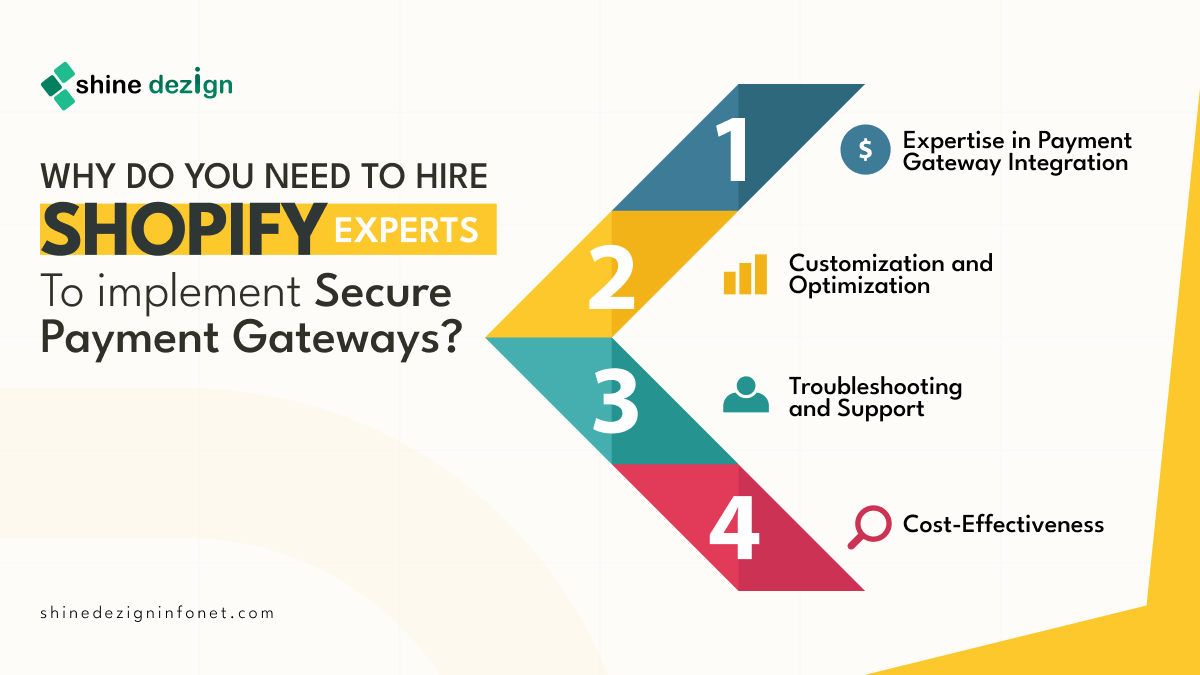 Expertise in Payment Gateway Integration 
Shopify Experts possess specialized skills and knowledge in the payment gateway. They are well-versed in the technical intricacies of various payment providers, making the integration process secure and smooth. This expertise extends to staying updated with the latest industry standards and security protocols, lowering the risk of fraud and vulnerabilities. Shopify experts bring to the table;
Technical Proficiency:
Expert understanding of API, webhooks, and secure data transmission process.
Security Expertise:
Knowledge of the latest encryption methods and industry best practices to ensure the safety of transactional data.
Compatibility Checks:   
Ability to assess compatibility between the selected payment gateway and Shopify store setup.
Customization and Optimization:
Every business is unique, and payment gateways should be tailored to meet specific requirements. Shopify experts understand this and can customize payment solutions to align with your business model. They optimize the user experience by ensuring the payment process is user-friendly and seamless. This optimization can boost conversion rate, as clients are more likely to complete their purchases when the payment process is hassle-free.
Troubleshooting and Support: 
Shopify experts are well equipped to provide immediate assistance in addressing and diagnosing any unforeseen issues that may emerge within your payment gateway system; their extensive experience in payment gateway integration prepares them to pinpoint root causes swiftly, minimizing disruptions to your online business operations.
Cost Effectiveness 
Investing in Shopify experts for payment gateway integration is a cost-effective decision with notable benefits. Shopify experts are armed with experience and deep knowledge, pre-emptively shielding your business from these dire consequences. They implement robust security measures and adhere to industry best practices, fortifying your Shopify payment gateway against threats and vulnerabilities. In doing so, they safeguard your financial assets and preserve the trust of your clientele.
Choosing the Right Shopify Expert
Well, now we know how hiring the right Shopify expert can take your business to the next level. This decision demands meticulous consideration and evaluation of several key factors to guarantee a successful partnership that aligns with your business requirements and aspirations. Here are explained some key points to look for before finding the proper Shopify Expert.
Experience: 
The foremost criterion is the depth of knowledge and experience the Shopify expert can use to benefit your business. Assess their industry tenure, familiarity with eCommerce ecosystems, and, specifically, their track record in payment gateway integration.
Client's Feedback: 
Check out the essential reviews and testimonials to gain insights into the expert's professionalism and performance. Switch through both qualitative and quantitative feedback to gauge the client satisfaction levels. Exceptional experts consistently earn the trust and praise of their clients, reflecting their competence and reliability.
Portfolio Assessment:  
To set up Shopify payment gateways, explore the portfolio of Shopify experts. Evaluate the projects they have undertaken in the past, paying particular attention to schemes analogous to your own. Always remember that an effective portfolio offers tangible evidence of their capabilities. Also, you can check the Shopify store checklist before setting up your eCommerce store.
Summing Up
Through this journey, we have uncovered the critical role that payment gateways play in ensuring smooth and secure transactions for your clients. These experts bring knowledge, wealth, and experience, enabling your online store to remain a reliable and trusted platform for buyers. The benefits are far-reaching, from reduced liability in the face of disputes to the ability to cater to a global audience with diverse payment preferences. 
If you need assistance in setting up payment gateways, Shine Dezign Infonet
 helps you to secure your payment gateways—their skills and in-depth knowledge help to remove any obstacles you face during payment gateway integration. Also, our experts possess a sufficient amount of payment gateway integration, enabling you to seamlessly integrate payment solutions for projects of varying sizes, from minor to large-scale endeavors.