Are you starting an online store on Shopify? Will just adding your products to the store help you successfully establish your Shopify Store? Well, the answer is No, as just adding a product won't help you to boost your online business.
And so, you should be aware of more things before starting your store. It requires lots of planning and attention to detail. Also, ensure a flawless debut and avoid oversights that could hinder your store's success.
But panic; you are on the right track, as we have compiled an extensive Shopify launch checklist that you should check before launching your Shopify store. In terms of market share of all e-commerce sites, Shopify ranks fourth with around 10.32% of the global e-commerce market. Also, 29% of hosted e-commerce sites in the US are built with Shopify. (Source: Statista)
Shopify Launch Checklist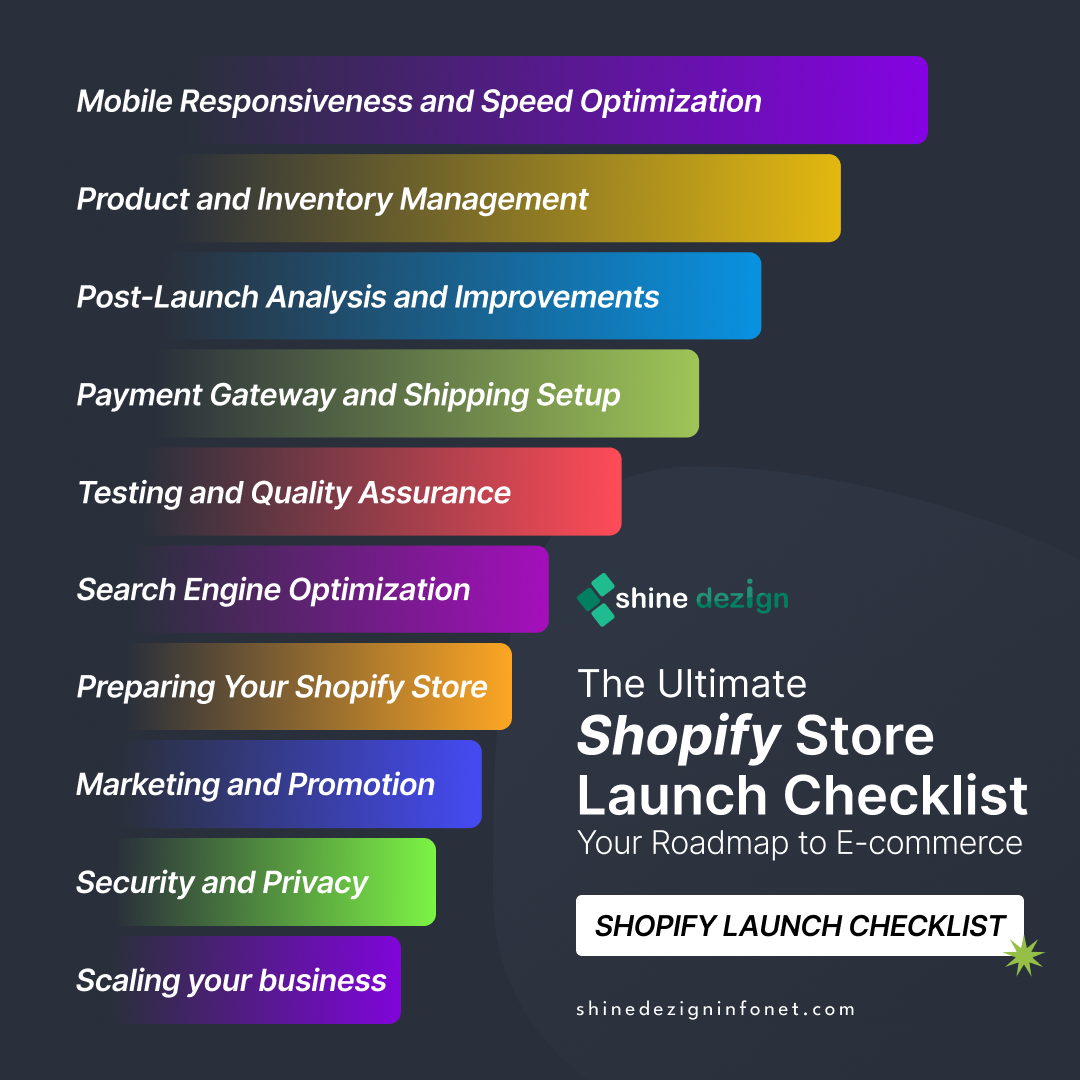 1. Preparing Your Shopify Store
Choosing the Right Shopify Plan: Selecting the perfectly suitable Shopify plan is crucial to meet your business requirements. Analyze the features offered by each project, such as the product numbers you can list and transaction fees, to make an informed decision.
Selecting a Captivating Domain Name: Selecting an appropriate domain name is vital for your online store as it represents your brand's identity and should be easily memorable. Opt for a name that embodies your particular market focus and powerfully connects with your intended customer base. Maintaining a professional tone when selecting your domain name is vital to ensure a positive and lasting impression on potential visitors.
Customizing Your Store's Theme and Design: The first impression of your store matters, and the stunning design leaves a lasting impact on your visitors. Personalize your store's theme to align with your brand image and ensure a seamless and visually appealing client experience. Hundreds of Shopify themes are available in the market, so you can select one that matches your business requirements. Fame Theme and Yuva Theme are the best Shopify themes to help you build your best online store.
Setting up Essential Pages: Having vital sections like About Us, Returns, and Shipping helps build trust and confidence among potential clients. By mentioning the comprehensive, unbiased and professionally crafted content on these pages, you can foster a sense of reliability and credibility, encouraging visitors to confidently make purchases.
Integrating Crucial Apps and Plugins: Integrating plugins and apps can improve your store's functionality and user experience. Tools for SEO, analytics and marketing automation can significantly boost your store's performance.
2. Product and Inventory Management
Researching and Sourcing Products: Conducting thorough research on your product and selecting reputable suppliers are vital steps in developing a distinguished and professional store. By providing premium, distinctive products, we can differentiate ourselves from competitors and gain the long-term loyalty of clients. Moreover, the impact on high-quality and unique items will play a pivotal role in setting our business apart and positively impacting your clientele.
Optimizing Product Images and Descriptions: Compelling product imagery and persuasive product descriptions are vital to maximizing the impact of your online business. It is crucial to optimize your images to ensure fast loading times while developing compelling descriptions highlighting your products' advantages and benefits.
Setting up Product Categories and Collections: Having a well-crafted product catalogue increases user experience and encourages exploration. Also, you can organize and manage your products into collections and categories to simplify client navigation.
Implementing an Efficient Inventory Management System: Make sure you avoid stockouts and overselling by implementing an effective inventory management system. Stay on top of stock levels to enable smooth operations and happy clients.
3. Payment Gateway and Shipping Setup
Configuring Payment Gateways: Provide your clients with a range of convenient and secure payment options. Also, you can configure famous gateways like PayPal and Strip to develop trust and boost sales conversions.
Establishing Shipping Zones and Rates: Establish zones and rates depending on your target regions and the products you provide. Also, you can give transparent shipping costs to avoid last-minute surprises for your clients.
Offering Free Shipping and Promotional Strategies: Customers are more likely to be enticed to make purchases by offering complimentary shipping, leading to increased revenue and a potentially more enormous average spending per order.
4.  Search Engine Optimization
Conducting Keyword Research: Analyze and research Keywords to identify pertinent keywords and phrases that resonate with your offerings and target audience. You can provide cutting-edge keyword research tools to reveal valuable opportunities for optimization.
Optimizing Product Pages and Content for SEO: You can also implement a diligent strategy to optimize your product pages. Integrate carefully selected keywords into meta descriptions, titles, and content, enabling them to blend with the overall message seamlessly. Craft engaging, informative and valuable content that captivates readers and provides them with genuine value.
Creating a Blog to Enhance SEO and Engage Customers: Generate insightful blog posts tailored to relevant keywords, enabling you to establish your authority in the industry and foster meaningful connections with your target audience. The blog will be a central repository for valuable content, driving organic traffic to your website.
5. Testing and Quality Assurance
Conducting Thorough Website Testing: Before publishing or launching your Shopify store, carefully test your store's functionality across various devices and browsers. Rectify and identify any issues to provide a seamless client experience.
Checking for Broken Links, Types, and Visual Inconsistencies: It is vital to analyze your website links thoroughly. You must analyze broken links, typographical errors and visual inconsistencies that may discourage potential clientele. Moreover, maintaining a professional standard in these aspects is vital to ensure a positive experience for our clients.
Testing the Checkout Process and Payment Gateways: Ensuring a seamless and efficient checkout process is crucial for maximizing conversion rates. It is imperative to thoroughly test payment gateways to guarantee secure transactions and prompt order processing, enhancing customer confidence and satisfaction.
6. Mobile Responsiveness and Speed Optimization
Ensuring Mobile-Friendly Design and User Experience: In today's mobile-centric landscape, your store must be completely responsive and optimized for smaller screens. A mobile-friendly design elevates user experience and enhances search engine rankings, contributing to a more professional and competitive online presence.
Optimizing Website Loading Speed for Better Performance: The speed at which a webpage loads comprehensively impacts user experience and search engine rankings. Employing a series of professional optimization techniques to enhance performance is vital.
7.  Security and Privacy
Implementing SSL certificates for secure transactions: Ensuring top-notch security in e-commerce is of utmost importance. Implementing SSL certificates to effectively encrypt data and safeguard your valued customer's sensitive information while conducting transactions is vital.
Adding the necessary privacy policy and terms of service: Ensure adherence to legal requirements and establish a sense of confidence with your clientele by incorporating transparent and all-encompassing privacy policies and terms of service.
8.  Marketing and Promotion
Creating a Pre-launch Marketing Strategy: Develop Anticipation and excitement before your store launch by implementing a well-structured marketing strategy. Use various platforms, including social media and email marketing and influences collaboration to create an impactful buzz around your upcoming launch.
Utilizing social media to Build Anticipation: Leverage social media platforms to showcase your products, interact with potential customers, and build a loyal following.
Offering Exclusive Deals and Discounts for Early Customers: Drive early adoption by offering exclusive incentives and promotional discounts strategically developed to allure clients into making their inaugural purchases.
Hiring Shopify Experts to boost e-commerce Business: Hire Shopify Experts to optimize and streamline your online business in an effective manner. They can help you to grow and maximize your return on investment and also boost sales. So, all you need to do is hire an expert and concentrate on other business strategies.
Read Also:
9. Post-Launch  Analysis and Improvements
Monitoring website traffic and sales performance: Monitoring website traffic and sales performance is vital for any successful online store. Using analytical tools, you can collect valuable data and insights that will enable you to identify strengths and areas for improvement within your business.
Collecting and analyzing customer feedback: Implement feedback channels; you can provide multiple channels for clients to submit feedback, like email surveys, website feedback forms or even a dedicated feedback page on your website.
Identifying areas of improvement and making necessary changes: To maintain high professionalism and improve your online store continuously, take a proactive approach to addressing shortcomings and implementing enhancements.
10.  Scaling your business
Evaluating the success of your launch and growth strategies: Once your Shopify store is launched and running seamlessly. It's vital to evaluate the success of your launch and growth strategies. Analyze key performance indicators (KPIs) like sales, conversion rates, website traffic and customer feedback.
Exploring expansion opportunities and new markets: Once your Shopify store gain popularity, consider expanding your market opportunities and entering new markets. Do extensive market research to identify untapped areas and assess the demand for your products.
Summing Up
Always take into account that the eCommerce world needs continuous improvement and dedication. Stay updated with industry trends, customer preferences, and technological advancements. Actively take customer feedback and use it to enhance your products and services. With the above-mentioned Shopify launch checklist, your store can reach new heights of success. All the best on your entrepreneurial journey!
Still, confused with setting up your Shopify store? Shine Dezign Infonet is always ready to help boost your store to the next level. With a focus on delivering the best experience and employing the latest technologies, Shine Dezign continues to be the best choice for businesses seeking to boost their growth.