In the world of entrepreneurship, making mistakes is common, and you will make many errors as you can't avoid all of them. Fortunately, you can prevent some of them, at least the most common ones, especially when setting up your Shopify eCommerce store. Around 4.3 million e-commerce sites are built using Shopify. (Source:
builtwith.com
). Therefore, to set up your Shopify store you need to hire a Shopify developer who can upscale your business. 
Most businesses end up hiring experts that fail to boost business growth. But fret not; here's a guide on avoiding common mistakes when hiring Shopify developers. This blog will benefit you in hiring experts that possess good experience and abilities to succeed in business.
10 Common Mistakes to Avoid When Hiring Shopify Developer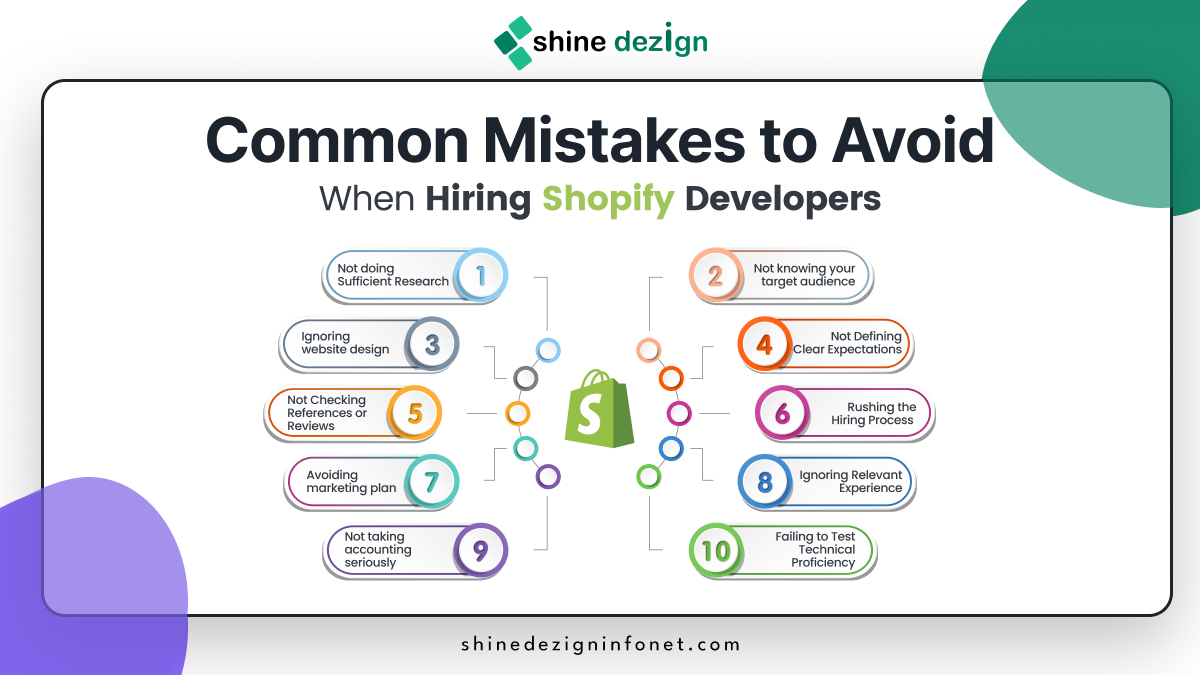 1. Not doing Sufficient Research   
Failing to conduct adequate research before hiring Shopify developers can have a bad impact. Insufficient research can lead to various setbacks and challenges throughout the development process and beyond. Without thorough research, there's a risk of hiring developers that may lack the necessary expertise and experience in working with the Shopify platform. This could result in inefficient development practices and a lack of understanding of the platform's nuances.
How to Fix?
Analyze and take time to research potential candidates thoroughly. Look at their websites, portfolios they have worked on, and any case they provide. This research will give you a better understanding of their design aesthetics, skills, and the types of projects they have handled in the past.
2. Not knowing your target audience
As a Shopify developer will be a newbie to your business. Not giving knowledge about your target audience may hinder your business results. The development process might lack purpose and direction without an explicit understanding of potential clients, their behaviors, preferences, and requirements. This deficiency can result in web development and store failure, leading to lower conversion rates and ultimately affecting the store's overall success. 
How to Fix?
Before hiring a developer, ensure you have an in-depth understanding of who your clients are and what they are looking for in an online shopping experience. A developer who understands your audiences can tailor your Shopify store's design, user experiences, and functionality to meet those specific requirements
3. Ignoring website design 
Neglecting to establish a clear and well-thought-out design direction can result in misaligned expectations between the developers and entrepreneurs. The miscommunication between developers and entrepreneurs may lead to more Shopify store mistakes, leading to delays, revisions, and increased costs during the front-end and back-end development process.  
How to Fix? 
Always look for a skilled Shopify developer capable of creating a visually appealing and user-friendly design that streamlines your brand identity and resonates with your target audiences. You can also look for Shopify themes to elevate your business.
Also Read: How Much Does a Shopify Expert Cost?
4. Not Defining Clear Expectations 
When clear expectations are not defined, several detrimental consequences can ensue in your business results. Also, the business objectives and project scope remain vague, leading to misalignment and confusion between the entrepreneur's vision and the developer's actions. This can result in a project that deviates from the intended direction and fails to meet the desired outcomes.  
How to Fix? 
It's always recommendable to clearly outline your project's goals, scope, and expectations from the beginning. This incorporates detailed features, functionalities, and any specific design elements you must focus on. By providing this information upfront, you can ensure that you and the developer are on the same page and avoid miscommunication.
5. Not Checking References or Reviews
Failing to review references or assess feedback before engaging Shopify developers can lead to unfavorable outcomes. References and reviews offer valuable insights into the developers' reliability, proficiency, and quality of their work. By neglecting this vital step, one might overlook potential issues like insufficient technical skills, subpar performance, or missed deadlines. Also, a lack of due diligence in checking reviews or reference could result in hiring developers who are not suited for the task, which may result in project delays.
How to Fix?
A developer's portfolio might showcase their best work, but it's essential to go beyond that. Ask for references from their previous clients and take the time to read reviews or testimonials. These insights will give you a better understanding of their work ethic, professionalism, and how they handle client relationships.
6. Rushing the Hiring Process  
Rushing through the hiring process before engaging affordable Shopify developers can be detrimental to the success of your eCommerce venture. Selecting developers without due diligence can lead to several unfavorable outcomes. Insufficient assessment of a candidate's qualifications can result in a lack of cohesion with the development team.
How to Fix?
You need to take the time to interview multiple candidates, evaluate their skills and discuss your project in detail. This enables you to compare their weaknesses, strengths, and how well they align with your vision before making a decision.
Also Read:

Top 11 Reasons to Hire Shopify Experts
7. Avoiding marketing plan
Embarking on a marketing plan before hiring Shopify developers may lead to suboptimal results. This sequence of actions can potentially result in a misalignment between the technical capabilities of the eCommerce platform and the envisioned marketing strategies.
How to Fix?
An effective developer must understand eCommerce marketing strategies like SEO, content integration, social media integration, and email marketing. Ensure that your selected developer can implement these strategies within your Shopify store's design and functionality.
8. Ignoring Relevant Experience
A lack of familiarity with the platform's intricacies and capabilities can result in ineffective development processes. Disregarding relevant experience in the hiring of Shopify developers can lead to extended project timelines and increased costs. Also, the absence of pertinent experience can impede effective problem-solving. Experience Shopify experts bring a knowledge wealth to the table, allowing them to anticipate challenges and seamlessly address them.
How to Fix?
Look for developers who have experience working specifically with Shopify or similar e-commerce platforms. Experience with Shopify means they are familiar with its features, extensions, and potential limitations. This knowledge is crucial for building a seamless and efficient online store that meets your business goals.
9. Not taking accounting seriously 
When one thinks of hiring Shopify developers, it's typically to design, develop, or enhance an e-commerce store. The focus is often on aesthetics, user experience, and technical functionality. However, a successful e-commerce operation isn't just about how the website looks or functions but also about how it aligns with the business's financial and accounting practices.
How to Fix?
Your selected developer must be capable of integrating secure payment gateways and setting up systems to track and manage financial transactions. Also, look for a developer who can manage technical functions and also align with your company's accounting practices. 
10. Failing to Test Technical Proficiency 
Failing to test the technical proficiency of potential Shopify developers before hiring them can be a costly mistake for businesses. It can be hefty in your pockets if you ignore the technical test of the developer. Expert developers have the knowledge and experience to easily diagnose and resolve technical problems.
How to Fix?
Providing a small coding test or asking technical questions related to Shopify's functionalities can help you gauge your problem-solving abilities. Their ability to manage technical challenges can let you understand their capability and technical knowledge.
Summing Up
What were the most common mistakes you must avoid when hiring Shopify developers? However, hiring expert Shopify developers allows you to concentrate on other responsibilities with post-development assistance. Furthermore, you can relax knowing that a professional Shopify developer is on call if something goes wrong with your online business.
If you want to hire skilled Shopify developers for your successful eCommerce store. Our Shopify experts have 10+ years of experience and are known to deliver scalable, robust, and secure Shopify apps at an economical price.