If you are running an eCommerce business through the Shopify platform. Hiring Shopify experts is the catalyst that will help your Shopify store to grow exponentially. But before hiring Shopify professionals, the biggest question arises: What is the price of hiring a Shopify expert?
We understand that you need clarification about hiring a Shopify professional for your business. Don't worry; this blog is here to help you, as we will cover all the pinpoints you need to look at when interviewing Shopify experts, and we have also covered the best Shopify interview questions you can look for before recruiting Shopify professionals. So, let's explore and clear the basics by asking the vital questions that may help you in the interviewing Shopify Experts.
Why is it crucial to ask questions before hiring Shopify experts?
Every business has objective and unique values. Analyzing and monitoring a thorough interview ensures that the Shopify expert you choose aligns with your brand's goals and vision. This alignment is essential for a successful collaboration.
Also, Shopify experts possess technical proficiency. So, asking the appropriate questions can help you measure their expertise in working with the platform and handling technical challenges.
In addition, there is a high chance that your eCommerce store may undergo technical issues or customization needs. Asking questions about their past experiences and how they resolved challenging problems can give you insight into their problem-solving abilities. Let's explore the interview questions for Shopify experts that will make your hiring process easy and fast.
Questions to Ask When Interviewing Shopify Experts
General Background and Experience
How long have you been working with Shopify?
When hiring a Shopify developer, it's vital to monitor the depth of their experience with the platform's evolution and accumulate a wealth of knowledge, which can be beneficial in addressing complex problems.
This extensive history of experience represents their expertise and might bring a holistic perspective on their problem-solving ability. Also, professionals with short expertise might have fresh air and innovative insights.
Can you provide references or testimonials from previous clients?
Asking for testimonials or references from previous customers is a vital interview question when interviewing a Shopify expert from a business perspective. This confirms that the candidate has the expertise and skills they claim.
Also, in this business, owners need assurance that the expert can effectively work with the Shopify platform and drive productive results.
How many Shopify stores have you set up or optimized?
When interviewing Shopify experts, asking about the number of Shopify Stores they have set up or optimized is the notable question. A substantial number can imply extensive experience, suggesting familiarity with a wide array of Shopify store configurations, challenges, and solutions.
By asking this question, you can notice and analyze that the expert is not only seasoned but also results-driven and versatile in handling different projects.

Technical Proficiency
What Shopify themes are you most familiar with?
As hundreds of Shopify themes are available, it's pivotal to ask about their familiarity with a range of niche and popular themes.
Shopify professionals must have expertise in managing and setting up Shopify themes that are widely used. Understanding Shopify theme development and management showcases the expert's grasp of fundamental Shopify setups. Also, Shopify professionals must know niche themes customized to specific business needs.
This helps you understand whether Shopify developers have the ability and capacity to craft personalized solutions that align with diverse customer preferences and goals.
Can you describe a challenging problem you've encountered on Shopify and how you resolved it?
Asking about challenging tasks or problems will help you understand the ability and gauge the problem-solving skills, technical knowledge, and adaptability.
The way Shopify experts tackle obstacles showcases their commitment and expertise to ensure a business's success on the platform. An in-depth response, as illustrated above, showcases the candidate's problem-solving approach and understanding of the intricate dynamics involved in running a successful online store.
How do you approach mobile optimization and responsive design for Shopify stores?
As almost all e-commerce clients are mobile users, optimizing your Shopify stores may directly impact the user experience. When interviewing a Shopify expert, it is vital to understand their approach to creating responsive design.
From a business perspective, mobile optimization ensures that a Shopify store caters to the growing mobile user base. This question helps to analyze the
expertise
of skill in image optimizations, mobile-first design, and efficient coding.
Customization and Design 



How comfortable are you with customizing existing Shopify themes versus creating a design from scratch?
Hiring a Shopify expert who possesses skills in customizing and designing can give additional benefits to your business. However, developing a design from scratch offers complete control over the Store's unique look and user experience, which benefits companies seeking a distinct brand identity.
The choice depends on the specific business budget, goals, and timeline. An expert who can navigate both approaches effectively can offer customized solutions that streamline the client's objectives and needs.
Can you share examples of previous Shopify designs you've completed?
When hiring Shopify developers, requesting examples of their previous Shopify designs is vital. You can also ask for their portfolio, highlighting various techniques that reflect the expert's versatility and ability to understand and align with different brand identities.
The depth of their portfolio can provide insights into their design creativity, adaptability, philosophy, and experience crafting stores for different clients.
How do you ensure that the design aligns with a brand's identity and ethos?
It would help if you ensured that the design aligns with a brand's identity as it directly impacts your business's growth; the process starts with an in-depth consultation to grasp the client's brand value, target audience, vision, and mission. This iterative approach enables us to refine the design until it perfectly reflects the brand's identity.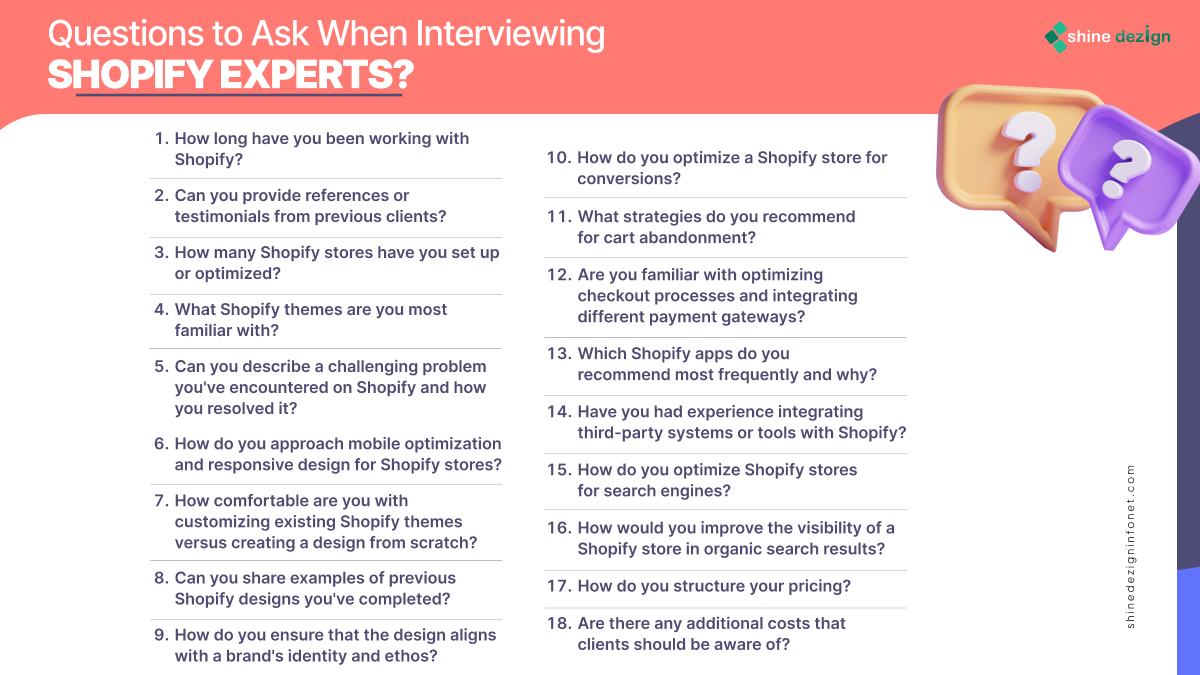 E-commerce Strategy and Optimization
How do you optimize a Shopify store for conversions?
It's apparent that you optimize your Store to improve and increase your sales conversion rate. So, when hiring Shopify experts, asking this question is essential to assess their ability to drive revenue growth.
Techniques like A/B testing help refine website elements for maximum effectiveness. High-quality product images develop trust and attract clients.
What strategies do you recommend for cart abandonment?
When hiring Shopify experts, understanding their strategies for combating cart abandonment is crucial, indicating their proficiency in ensuring maximum sales conversions.
Moreover, an optimized checkout process is of utmost importance, and it can significantly reduce the friction that often leads to abandonment. Therefore, implementing these methods demonstrates a Shopify expert's commitment to increasing a business's potential profit.
Are you familiar with optimizing checkout processes and integrating different payment gateways?
Asking this question when hiring a Shopify expert is essential because it highlights their ability to address and understand the specific requirements of a business, enabling the Shopify platform to be utilized to its full potential. Custom Shopify apps can significantly impact a business's efficiency and competitiveness, making assessing the candidate's expertise in this area crucial.
Shopify Apps and Integrations
Which Shopify apps do you recommend most frequently and why?
Understanding the most recommended Shopify apps when interviewing a Shopify expert provides insight into their knowledge of tools that enhance functionality, improve user experience, and cater to specific' clients' requirements. Each Shopify app addresses distinct needs, and a well-versed Shopify expert should be able to leverage these tools for optimal eCommerce performance.
Have you had experience integrating third-party systems or tools with Shopify?
Integration plays an important role when hiring Shopify experts. Check whether Shopify experts possess integration skills and also assess the tools that experts have integrated in their previous projects. Successful integrations enable businesses to streamline marketing operations and enhance client experience. Therefore, asking this question allows the company to adapt to changing market demands, ultimately increasing customer satisfaction and sales.
SEO and Marketing
How do you optimize Shopify stores for search engines?
Search Engine optimization is one of the main pillars of eCommerce business. So, when hiring Shopify developers, assess whether they understand the importance of Shopify SEO Services in increasing the online presence. Techniques like keyword optimization help streamline your Store with user search intent, driving relevant traffic.
How would you improve the visibility of a Shopify store in organic search results?
A Shopify expert who identifies the value of organic search helps to grow your business. Regularly publishing and posting quality blog content provides notable information to your target clients and helps increase your Store's relevancy and authority in Google SERP. Moreover, optimizing the website speed ensures a smooth user experience and reduces bounce rates. All these strategies cumulatively enhance organic search ranking, making them indispensable for a thriving Shopify store.
Price
How do you structure your pricing?
Budget is the most considerable price when hiring Shopify experts. Price reflects their understanding of profitability, market competitiveness, and customer value. There are different types of pricing models that Shopify experts offer depending on an hourly, monthly, or yearly basis. Therefore, asking this question effectively ensures that experts can efficiently balance profitability and client expectations, ultimately driving business success.
Are there any additional costs that clients should be aware of?
Asking about additional costs that clients should be aware of when interviewing Shopify experts helps establish transparency and trust. It ensures that the client clearly understands the financial commitment required for the project. Moreover, it allows the expert to demonstrate professionalism and willingness to provide a comprehensive cost breakdown, showcasing their commitment to fair and open working relationships.
Summing Up
We have covered all the vital questions you need to ask when hiring Shopify experts for your online business. These questions will help you analyze and evaluate their technical proficiency, skills, and thinking ability to tackle problems. So, you can make an informed decision by conducting a thorough interview and carefully considering their response.
Not satisfied, need additional guidance? Shinedezign Infonet, the best Shopify development agency, is here to help you in your hiring process. Our team of dedicated Shopify experts can help you boost your Store in a productive manner.