When selecting an eCommerce platform, the decision to choose the best e-commerce platform directly impacts your business fate, prospects and potential success. Failing to select a suitable and robust platform can severely hamper the growth and profitability of an online store in the long run. Therefore, choosing the medium that fulfills your business requirement and upscales your business process is crucial.
You may be reading this post because you might need clarification about selecting the best e-commerce platform among Shopify vs WooCommerce vs Magento. The struggle is real when deciding which eCommerce platform will work best for you, especially when looking for budget-friendly options, great support and the potential to scale in the future. Let's help more in selecting the best e-commerce platform for your business. Please sit and explore our unbiased comparison of Shopify vs WooCommerce vs Magento.
Comparison Chart: Shopify vs WooCommerce vs Magento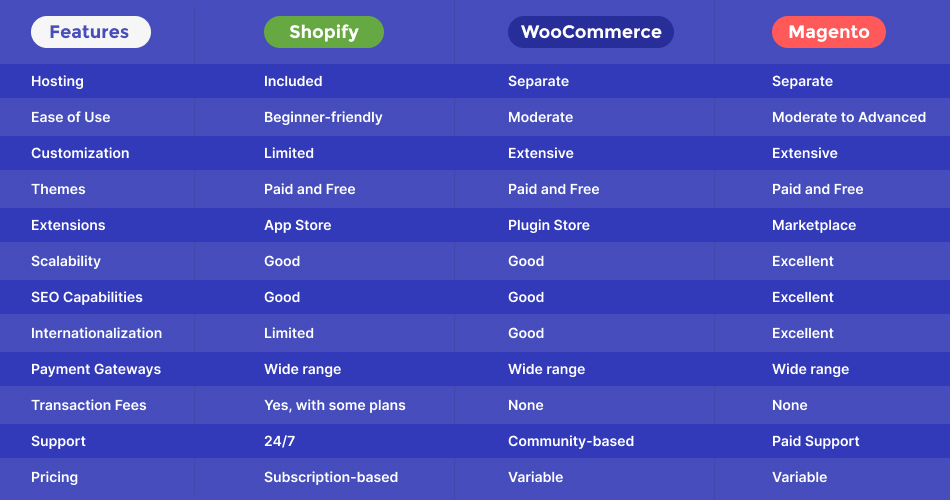 Overview of Shopify:
Shopify is a famous e-commerce platform that allows businesses to establish online stores and sell products or services to clients around the globe. It has become one of the most popular and widely utilized e-commerce solutions. In addition, the platform offers a comprehensive toolset and features that enable entrepreneurs, small businesses, and even large enterprises to manage and set up their online ecommerce stores.
Also, the platform offers a comprehensive toolset and features that enable entrepreneurs, small businesses, and even large enterprises to set up and manage their online stores quickly. It caters to an extensive range of industries and has powered over a million businesses in over 175 countries.
Benefits of using Shopify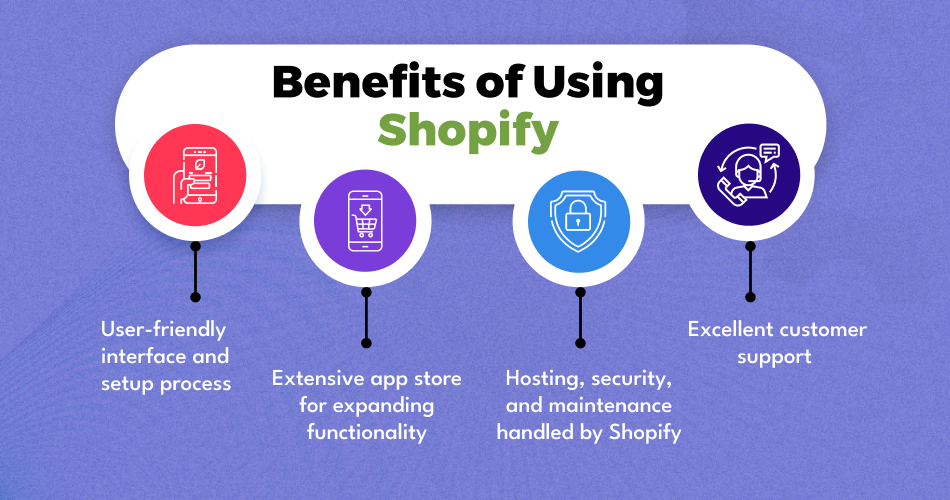 1. User-Friendly Interface and Setup Process
Shopify is known for its user-friendly and intuitive interface, making it easy for anyone, even without technical expertise, to set up and manage an online store. The Shopify development services offers a step-by-step guide and a drag-and-drop editor, enabling users to personalize their store's design and layout without the need for technical knowledge. This simplicity in setup helps entrepreneurs and businesses quickly get their online stores up and running.
2. Extensive App Store for Expanding Functionality
Shopify offers a vast ecosystem of top Shopify apps through its Shopify App Store. These apps enable users to extend the functionality of their stores with additional features and integrations. Whether you require tools for marketing, inventory management, customer service or analytics, the app store provides a wide range of options to enhance your store's capabilities. The availability of these apps enables you to tailor your store to your specific business needs and scale as your business grows.
3. Hosting, Security, and Maintenance Handled by Shopify
When you choose Shopify, you don't need to worry about the technical aspects of hosting, security, and maintenance. Shopify provides reliable and secure hosting for your online store, ensuring that it is accessible to your customers at all times. They also handle security measures, such as data encryption, fraud protection, and automatic backups, to keep your store and customer information safe. Additionally, Shopify takes care of platform updates and maintenance, ensuring that you have the latest features and improvements without any hassle.
4. Excellent Customer Support
Shopify is renowned for its exceptional client support. They provide 24/7 support through live chat, email, and phone to guide you with any queries or issues. You may encounter while using the platform. Their knowledgeable, friendly support team is always there to help you navigate challenges, provide guidance on using features, and promptly address technical difficulties.
Pros & Cons of Shopify
Pros
Shopify is known for its user-friendly interface, making it accessible even for individuals without technical knowledge.
Shopify offers a comprehensive set of tools and features needed to run an e-commerce business.
Shopify has an extensive app store with a wide range of add-ons and integrations.
Shopify takes care of security and reliability, including hosting, site maintenance, and updates.
Cons
While the basic features of Shopify are easy to grasp, more advanced functionalities and customizations may require some technical knowledge. This can be a challenge for users who are not familiar with web development or coding.
While it offers different pricing plans to accommodate various business sizes, these fees can add up, especially for smaller businesses or those just starting.
Exploring WooCommerce:
Woocommerce is a popular e-commerce platform developed as a WordPress plugin. It offers concern and assures you that the query raised by you is the solution for creating and managing online stores. With its extensive range of features and flexibility, Woocommerce has become a preferred choice for many businesses and entrepreneurs looking to sell products or services online.
Advantages of using WooCommerce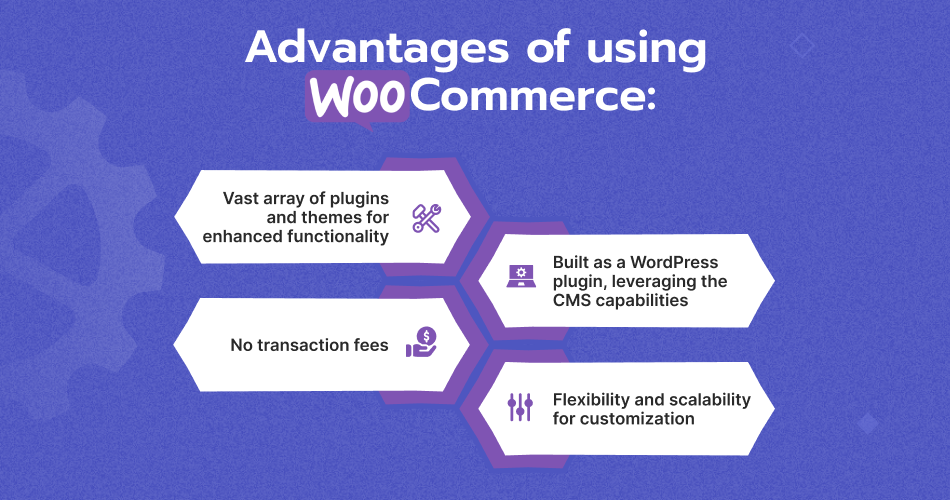 There are several advantages to using WooCommerce for your e-commerce needs. Here are some key benefits:
1. Built as a WordPress Plugin, Leveraging the CMS Capabilities
Woocommerce seamlessly integrates with WordPress, one of the most widely utilized content management systems (CMS). This integration enables you to leverage the powerful CMS features and seamlessly manage your online store alongside your website content.
You can create and customize your store on your own or get professional 
WordPress development services
 to speed up the process and ensure that your theme and plugins work smoothly with WooCommerce.
2. Flexibility and Scalability for Customization
WooCommerce offers a high degree of flexibility, allowing you to customize and tailor your online store to meet your specific requirements. You can modify the design, functionality, and behavior of your store using various themes, plugins, and extensions.
3. Vast Array of Plugins and Themes for Enhanced Functionality
WooCommerce has a large and active community of developers who have created a wide range of plugins and themes specifically designed for the platform. These extensions enhance the functionality of your store, enabling you to add features such as advanced product variations, subscription options, multi-channel selling, and more.
4. No Transaction Fees
Unlike many other e-commerce platforms, WooCommerce does not charge any transaction fees on your sales. This means you can keep more of your revenue and have greater control over your profits. But to run it wo need to upgrade your WordPress as it's a plugin.
Pros & Cons of WooCommerce
Pros
WooCommerce is built as a plugin for WordPress, which is one of the most popular content management systems (CMS) globally.
Woocommerce provides a wide range of customization options, such as designing unique product pages, adding custom features, integrating third-party services, and modifying the appearance of your store.
WooCommerce has a vast plugin ecosystem, with thousands of free and premium plugins available.
WooCommerce integration allows you to leverage WordPress's features, such as blogging, SEO optimization, and content marketing, to drive traffic and engage with your audience.
Cons
While WooCommerce is scalable, managing a large store with thousands of products can be challenging.
While WooCommerce itself is free, some advanced features and extensions come at a cost.
Understanding Magento:
Magento is an open-source eCommerce platform that enables businesses to manage and create online stores. It provides a comprehensive set of features and tools for customizing and building online storefronts, managing product catalogs, processing orders, and handling client interactions. Understanding Magento involves familiarizing oneself with its architecture, functionalities and key concepts like extensions, themes, and modules.
Benefits of using Magento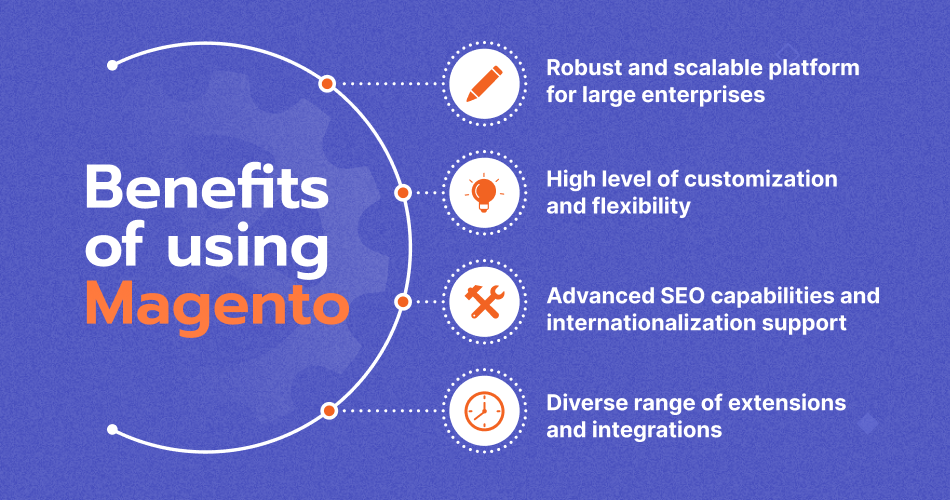 1. Robust and Scalable Platform for Large Enterprises
Magento is known for its ability to handle large-scale e-commerce operations. It can efficiently manage a high volume of products, orders, and website traffic, making it suitable for enterprise-level businesses.
2. High Level of Customization and Flexibility
Magento offers extensive customization options, allowing businesses to tailor their online stores to meet specific requirements. It provides a modular architecture that supports the addition of custom features and integrations, making it highly flexible.
3. Advanced SEO Capabilities and Internationalization Support
Magento comes with built-in SEO features that help optimize the online store for search engines, improving its visibility. Additionally, it supports multiple languages, currencies, and tax systems, making it suitable for businesses operating internationally.
4. Diverse Range of Extensions and Integrations
Magento has a vast marketplace of extensions and integrations that extend its functionality. These extensions cover various aspects, including payment gateways, shipping methods, marketing tools, analytics, and more, allowing businesses to enhance their online stores with additional features.
Pros and Cons of Magento
Pros
Ability to handle high traffic and large product catalogs.
Robust security features to protect sensitive customer data.
Enterprise-level features, such as advanced inventory management and customer segmentation.
Multi-store functionality, enabling businesses to manage multiple brands or websites under one platform.
Comprehensive reporting and analytics capabilities for data-driven decision-making.
Cons
Complex setup and maintenance compared to simpler platforms.
Higher development and customization costs due to the need for specialized expertise.
Resource-intensive platform, requiring dedicated hosting and server resources.
Steeper learning curve for administrators and developers unfamiliar with the platform.
Pricing Comparison: Shopify vs WooCommerce vs Magento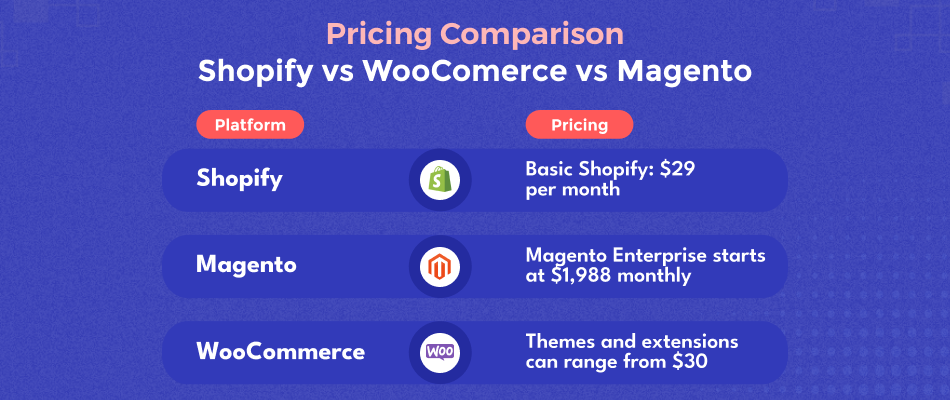 Final Words
So which platform is best for your platform? Ultimately, the best platform for your business will depend on factors such as your budget, technical expertise, scalability needs, and specific requirements. Carefully assess each platform's features, pricing, and support options to determine which aligns best with your business goals.