Building your online Shopify store is a very straightforward process. There are several freely available apps and themes through which you can easily set up your Shopify stores.
However, you should not ignore that there are thousands of people like you who will be using the same free apps and themes on their websites. So, how do you create a Shopify store to stand out from the crowd and attract clients?  
 So, to develop a store that will benefit you in the long run, you need to hire a Shopify Expert
. Now, you might be thinking about how hiring expert can help to upscale your store.
In this blog, we will explore how hiring Shopify developers can streamline your business operations. Read on to know the benefits of hiring a Shopify expert.
Why Hire Shopify Experts?
Hiring Shopify experts is crucial for any business to develop a strong online presence and maximize its eCommerce potential. Shopify is known for its robust platform, which provides many features and tools designed to facilitate the management and creation of online stores.
However, to fully leverage these capabilities and craft a standout online store, it is essential to enlist the services of professional Shopify experts and developers. Here are ten compelling reasons why hiring a Shopify expert is a wise investment for your business. 
Benefits of Hiring a Professional Shopify Expert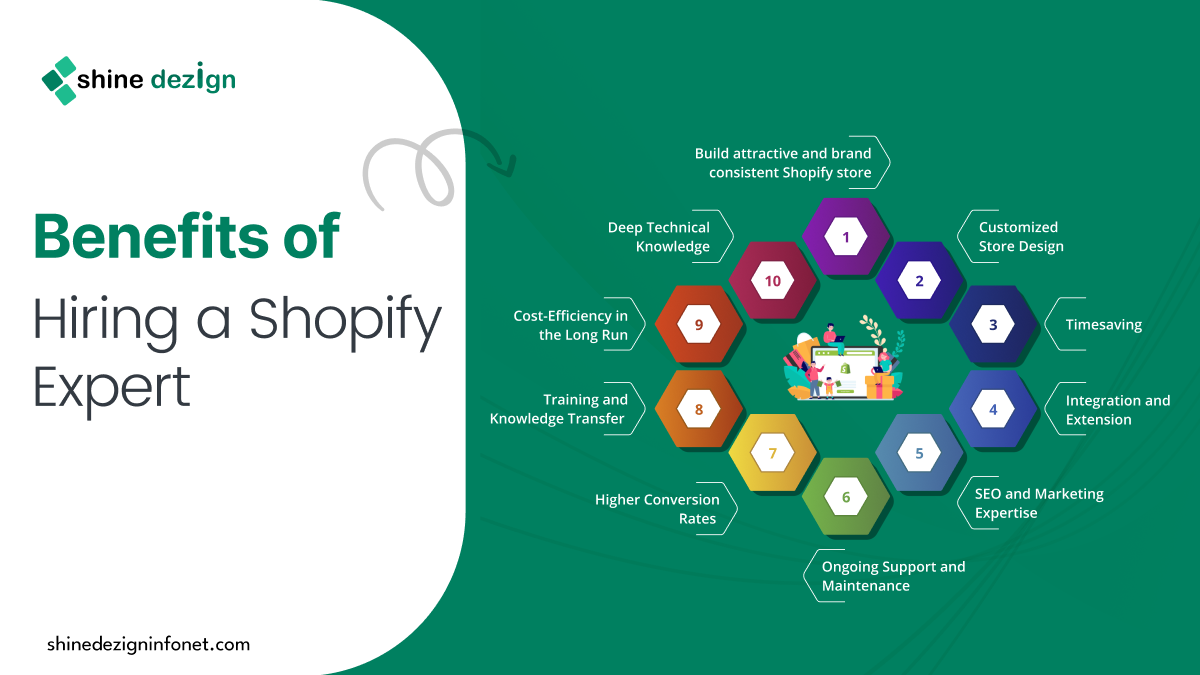 1. Deep Technical Knowledge
Shopify experts are known for their profound grasp of their platform's technical intricacies, an important aspect of ensuring the smooth operation of your online store. These experts are well-versed in various parts of Shopify, including coding, APIs (Application Programming Interfaces), and seamless app integrations.
This deep technical knowledge is invaluable in customizing your store to meet your unique business requirements and staying current with ever-evolving eCommerce industry standards.  
Moreover, Shopify experts can write and modify code to create custom designs and themes or implement specialized features. This technical proficiency enables them to tailor your store's appearance and functionality to your brand's vision, ensuring a seamless and engaging client experience.
2. Customized Store Design
In this highly competitive e-commerce world, having an online store that attracts your clients is crucial for retaining and engaging customers in your product. While one-size-fits-all templates might offer a quick start, they often fail to capture the essence of your brand and connect with your target audience.
This is where the expertise of professional Shopify experts comes into role. These experts have the design skills to craft a customized online store that reflects your brand's unique identity and resonates with your target audience.
For instance, let's assume you are running a fashion boutique that prides itself on providing high-quality, sustainable clothing. A professional Shopify designer can work closely with you to create a personalized store using a customized colour scheme, layout, and typography to align with your brand's aesthetics. 
3. Timesaving
Managing and building a Shopify store can often become time-consuming, specifically for those who need to be more skilled in the platform's features. The process involves various technical aspects like setting up the website, configuring Secure payment gateways, optimizing product listing, and ensuring a seamless user experience.
This can be overwhelming for business owners who want to focus on other critical aspects of their enterprise, like product development, customer service, marketing, and more.
Also, by hiring Shopify developers, you can offload the technical tasks to someone with expertise, enabling you to allocate more time and energy to her creative process and customer engagement, ultimately growing the business more effectively.
4. Integration and Extension
Shopify experts can skillfully bridge the gap between your store and many external tools, serving various needs such as advanced analytics, diverse payment gateways, and robust marketing solutions.
For instance, a Shopify expert can integrate third-party apps to provide a seamless experience for your clients. They can also set up popular payment gateways like PayPal, Stripe, or Square, offering customers more flexibility and convenience during checkout.
Moreover, Shopify developers are the catalysts that unlock the full potential of your online store by seamlessly integrating the tools and extensions that best suit your business requirements.
5. SEO and Marketing Expertise
Hiring a Shopify expert with marketing and SEO expertise can be a game-changer for your online store. These professionals deeply understand how to make your store more search engine-friendly, ultimately leading to improved visibility, increased traffic, and higher sales.
One crucial aspect of their work is optimizing your website's content, meta tags, and structure to align with the algorithms used by search engines like Google. By conducting thorough keyword research and implementing these keywords strategically, they can ensure that your store ranks higher in relevant search results.
6. Ongoing Support and Maintenance
Ongoing maintenance and support are crucial aspects of running a successful Shopify store. These services are vital to ensure your online business functions efficiently and smoothly. Therefore, you need to hire Shopify developers to provide various services to keep your store secure and performing at its best.
For instance, let's say you sell skin care products; as your business grows, you may be required to add new products, update product descriptions and adjust pricing to stay competitive. Shopify experts can help you with this task, enabling your online catalog to remain appealing to customers.
7. Higher Conversion Rates
Professionally optimized and designed are vital for achieving higher conversion rates. When experts craft your online store, they bring a deep understanding of user experience principles.
This means that every factor of your store, from its navigation and layout to its checkout process and product pages, is carefully designed to enhance the user's journey and encourage them to purchase.
For instance, a well-designed Shopify store will have a clean and intuitive layout that makes it easy for visitors to find what they are looking for; the product pages will feature high-quality images, detailed descriptions, and persuasive calls to action such as "Add to Cart" or "Buy Now". The checkout process will be streamlined and user-friendly, minimizing friction and reducing cart abandonment rates.
8. Training and Knowledge Transfer
Hiring a Shopify developer goes beyond just benefiting from their technical expertise; it also presents a valuable opportunity for knowledge transfer and skill development within your team.
These Shopify developers can serve as more than just hired hands; they can act as mentors, imparting their deep understanding of the Shopify platform and eCommerce best practices to your team. By working closely with them, your team can gain valuable insights into efficient store management, ensuring that you are relying on external assistance and building in-house capabilities.
9. Cost-Efficiency in the Long Run
Hiring a Shopify developer can be a smart financial move for your eCommerce business in the long run. These experts bring a wealth of knowledge and experience to the table, which can help you avoid costly mistakes that often arise when managing an online store independently.
You can only set up your Shopify store with expert guidance, as you might face many challenges with website design, payment gateways, functionality and more. Fixing these problems can take time and effort, potentially leading to losing potential customers and revenues.
Shopify experts can navigate such challenges efficiently, ensuring that the online store operates smoothly from the beginning of developing your Shopify store.
10. Build an attractive and brand-consistent Shopify store.
Creating an attractive and brand-consistent Shopify store is crucial for any online business. Your store serves as the digital face of your brand, making it the first touchpoint for potential customers.  
To achieve this, it's essential to enlist the expertise of a professional Shopify developer who can ensure that your online presence not only looks visually appealing but also aligns seamlessly with your brand's values and identity.
 They don't just design a website; they craft an online experience. From the color schemes and typography that resonate with your brand's identity to the user interface that provides a seamless shopping journey, every element needs to tell a consistent story about who you are as a brand.
How to Find and Hire a Professional Shopify Expert?
Now that you have understood the benefits of hiring a Shopify expert, the next step is finding the right Shopify professional for your business. Here are some strategies to help you locate and select the ideal candidate:
Websites like Upwork, Freelancer, and Fiverr host a vast pool of Shopify developers. You can review their profiles, check their previous work, and hire them based on your requirements.
Shopify Experts Directory 
Shopify maintains its directory of certified experts. These professionals have proven their expertise and experience working with the platform, making them a reliable choice.
Recommendations and Referrals 
Reach out to your business network and industry peers for recommendations. Hearing about the experiences of others can help you identify potential experts.
Interviewing and Selecting the Right Candidate 
When you've identified potential candidates, conduct interviews to assess their skills, communication, and compatibility with your project. Choose the expert who aligns best with your goals and vision.
Conclusion
The benefits of hiring a Shopify expert, from technical knowledge to improved conversion rates, make it a wise investment. Following the abovementioned strategies, you can find and hire the right Shopify expert to take your online store to new heights, ensuring long-term success in the digital marketplace.
When it comes to enhancing your Shopify store and ensuring its success in the competitive e-commerce landscape, hiring a seasoned Shopify expert is essential. If you're searching for top-tier Shopify experts, Shine Dezign Infonet has the best experts with over ten years of experience and a proven track of delivering outstanding results.