Despite having remarkable products and services highlighted on your online store, are you still struggling to gain maximum ROI and attract more clients? This is because your Shopify store cannot attract customers. After all, the first impression is the last, and in this digital age, the first impression matters more than ever.
This is why your store's theme is crucial to attracting potential clients. Having the best Shopify theme can help you reflect your brand's identity. To set up your theme selection, you need the best Shopify professionals. So, let's embark on why you need to hire Shopify theme developers.
II. Identifying the Need for Shopify Experts
A. Assessing the complexity of Shopify Theme Selection and setup
Shopify offers an array of themes, each with its own feature set and design options. For someone who needs more technical expertise, navigating these choices and setting up a theme can be overwhelming. Shopify theme developers are well-versed in the platform's intricacies, enabling them to be adept at configuring and selecting a theme that streamlines your business requirements.
B. Evaluating the benefits of Hiring Experts
The benefits of hiring Shopify experts save you time as they bring abundant experience to the table, enabling your online store to look great and operate seamlessly. They can personalize themes to match your brand's identity, optimize performance, and offer ongoing support.
C. Cost-effectiveness of Hiring Shopify Experts
While it may seem challenging to handle theme selection and set it up yourself, hiring a Shopify expert may help you streamline the process, preventing costly errors and ensuring your store is set up to drive success from the beginning.

III. Why consider hiring Shopify theme developers for your Store Setup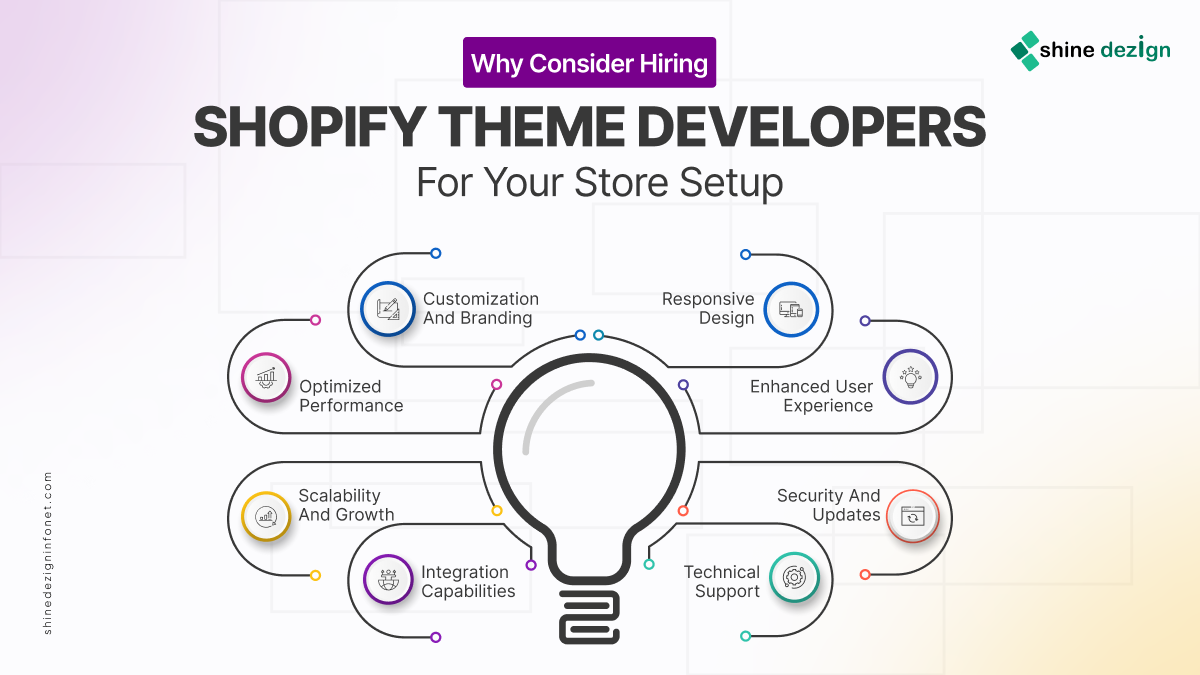 A. Customization and Branding
Your online Shopify store should reflect your brand's unique identity. Shopify theme developers possess the skills to customize themes, customizing them to your brand's values and aesthetics. They can adjust typography, color schemes, and layout to create an attractive and cohesive brand experience.
B. Responsive Design
Shopify experts have specialized skills in designing and crafting themes that seamlessly adapt to varying screen sizes. This ensures a uniform and user-friendly experience for all visitors, whether browsing on a tablet, smartphone, or desktop. A responsive design improves user satisfaction and boosts SEO ranking, making your store accessible to a broad audience.
C. Optimized Performance
Website performance and speed profoundly influence user satisfaction and search engine rankings. Shopify theme developers optimize images and other elements to guarantee swift and efficient loading times. This optimization reduces bounce rates, enhances the user experience, and strengthens your store's performance. It's a win-win relationship for your clients and your online visibility.
D. Enhanced user experience
Shopify theme developers integrate user-centric design principles into your online store, creating an effortless navigation experience. From clear calls to action to efficient search functions and a frictionless checkout process, they ensure your visitors enjoy a seamless journey. A positive user experience helps to retain your customers.
E. Scalability and Growth
Your online store's ability to grow with your business is essential. Shopify experts construct scalable themes and introduce features that facilitate seamless expansion without compromising user experience or performance. As your business grows, your digital storefront can efficiently adapt and accommodate increased products, traffic, and functionalities, enabling your store to remain an effective and reliable sales channel.
F. Security and Updates
Shopify theme designers are well-equipped with the latest security practices, implementing robust measures in theme development. They also diligently update themes to address any potential vulnerabilities promptly. With their expertise, you can ensure that your client's sensitive information is secured and your online store remains a trustworthy and secure destination.
G. Integration
Hiring Shopify theme designers will help you with integration capabilities; from payment gateways to inventory management systems, they create a cohesive ecosystem that simplifies operations and enhances the Shopping experience, ultimately boosting your Shopify store's competitiveness.
H. Technical Support
It's apparent that you may face technical challenges during your Shopify theme setup journey. Shopify theme developers provide ongoing technical support, swiftly addressing any bugs or glitches that may surface. This helps to give an uninterrupted Shopping experience for your customers.
Mistakes to Avoid When Hiring a Shopify Expert:
a. Focusing Solely on Price:
While budget is the main factor, it shouldn't be the sole decision when hiring Shopify theme developers; after all, Quality and experience matter. Therefore, investing in reputable Shopify experts can weigh off through customer satisfaction and improved performance in the long run.
b. Overlooking Communication Skills:
Effective communication is critical. So, ensure your Shopify expert is responsive and conveys solutions and ideas. Good communication makes sure that your project runs seamlessly.
C. Not Setting Clear Expectations:
Establish clear understanding and expectations to avoid misunderstanding between you and your theme designers. Define the scope of the work, any specific requirements, and the project timeline to ensure both parties are on the same page.
d. Ignoring Post Setup Support
If you want your store to evolve continuously, you will need ongoing support. Ensure your Shopify expert post-setup support is available for updates and improvement as your business grows.
Summing Up
Hiring Shopify theme developers for theme setup and Selection is an informed investment in the success of your eCommerce business. They bring skills and knowledge to the table, ensuring your online store looks great, performs optimally, and provides excellent user experience. You can Set up your eCommerce store on the growth path by avoiding common mistakes and making informed choices.
Shinedezign Infonet has a team of potential Shopify theme developers. Also, we have developed Shopify themes, Yuva themes, and Fame themes to help you boost productive growth for your business. Don't hesitate to Seek professional help when it comes to Shopify-it's an investment that gives effective long-term outcomes.