If you are running a Shopify eCommerce store, one thing remains constant: Speed matters. A slow-loading website can take away your potential clients, damage your search engine rankings and impact your revenue. As per stats, Slow-loading websites cost retailers $2.6 billion in lost sales yearly. (source: sweor.com)
So, to ensure your Shopify store operates at peak performance, hiring experts for your Shopify store speed optimization can boost your store's performance. Read on to learn more about how hiring experts for Shopify speed optimization will help you run your online store seamlessly.

Why is Shopify Store Speed Crucial?
As per stats, 47% of users expect a maximum of 2 seconds of Loading time for an average website. Let's explore more into why your Shopify store speed is more crucial.
And that's where a Shopify expert can help you; they know how to convert an idea into your business. It can take your business from scratch to success by helping you develop the best online store.
1. First Impressions and user experience
The first impression is the last impression of your website that your user experiences when they visit your website for the first time. So, it is vital to catch your users' attention within a few seconds after they access your website.
Shopify store speed signals reliability, professionalism, and seamless user experience, which is fundamental in capturing potential clients. This positive first impression can be a decisive factor in whether a visitor becomes a customer or bounces away to a competitor.
2. Impact on SEO and Search engine rankings
In this digital landscape where competition is very high, appearing on the first page of search engine results can be difficult but is vital for your eCommerce store. Google's search engine considers page speed as a ranking factor.
Faster websites rank higher, making them more visible to potential customers. So, a sluggish Shopify could mean lower visibility, resulting in a significant loss of potential sales and traffic. This helps to improve your Shopify store's performance.
3. Effect on mobile users
To successfully Average smartphone conversion rates are 64% compared to desktop conversion rates. So, if your store is slow to load and navigate on mobile, you risk returning away a substantial portion of your potential customer base. Mobile users are typically on the move and have less patience for slow-loading websites.
4. Bounce rate Implications
Bounce rate is the percentage of users who exit your website after viewing only the home page or the first half of that page. A slow-load Shopify store often has a higher bounce rate, indicating that visitors leave without exploring further or purchasing. A higher bounce rate means lost sales and negatively impacts your Shopify store performance in search engine algorithms.
5. Customer Retention and Repeat Business Benefits
Optimizing your Shopify store speed is not just about attracting new clients but it's also about retaining existing ones. A fast-loading site provides a positive shopping experience increasing the likelihood of clients returning for future purchases.
It's well documented that retaining existing clients is more cost-effective than acquiring new ones, making speed optimization a valuable investment in customer loyalty and report business.
Benefits of hiring Shopify experts for Speed optimization
Technical Expertise
Shopify experts have top-notch knowledge of the Shopify platform, its coding complexities, and integration possibilities. This expertise allows them to implement advanced performance enhancements that might be beyond the reach of the average store owner.
Experience
Experience is a valuable asset when it comes to optimizing store speed. Shopify experts have a proven track record of rectifying and identifying performance bottlenecks. They have encountered various challenges and know how to address them efficiently, ensuring your store operates at peak performance.
Time-Efficiency
Every second matters in e-commerce because time is money. The optimization process can be accelerated by hiring Shopify expertise. They can fine-tune your store for maximum performance, implement solutions, and swiftly detect problems, saving you valuable time that might be better spent on other facets of your business.
Comprehensive Analysis
There is no one-size-fits-all approach to optimization. The performance of your store is first thoroughly audited by professionals. This audit offers a thorough analysis of your store's pace and identifies opportunities for improvement. It acts as a road map for improved performance, making sure that nothing is overlooked.
Ongoing Support
As the digital landscape is rapidly changing, what is working today may not work as effectively tomorrow. Hiring experts often means you gain access to continued updates and support.
They can keep your Shopify store's performance consistently optimized as technology and trends change. Shopify experts for performance optimization can provide you with help 24/7, through which you can get support whenever you need it.
What are the components involved in the optimization process?
Audit:
The Shopify speed optimization journey typically starts with an audit. Experts review your store's current state, looking for bottlenecks to slow down performance. This comprehensive assessment helps them pinpoint areas that need improvement.
Image Optimization:
Online retailers rely heavily on images, but they can also be a major cause of slowdowns. Experts optimize images by compressing, correctly resizing, and using contemporary picture formats. Thus, load times are shortened without image quality being compromised.
Minification:
The process of minification involves shrinking the size of the CSS, JS, and HTML files utilized by your shop. Faster loading times result from smaller file sizes. While ensuring that the code's functionality and design integrity are maintained, Shopify specialists are skilled at minifying code.
App Analysis:
Although they might improve your store's usefulness, third-party apps can also slow down performance. The pace of your app store may be hampered by redundant or sluggish programmers, which experts discover and remove from your app ecosystem.
Theme Tweaks:
The design of your store represents your company. Experts may advise changing your theme or recommending another theme that is more performance-optimized. This may lead to notable performance increases and a more seamless user experience.
Server Improvements:
Your Shopify store's performance and dependability can be considerably impacted by the server that hosts it. For hosting options or a Content Delivery Network (CDN) connection, Shopify specialists may offer advice. This will help to guarantee that your shop loads fast and is always accessible to consumers worldwide.
Tips for Choosing the Right Shopify Expert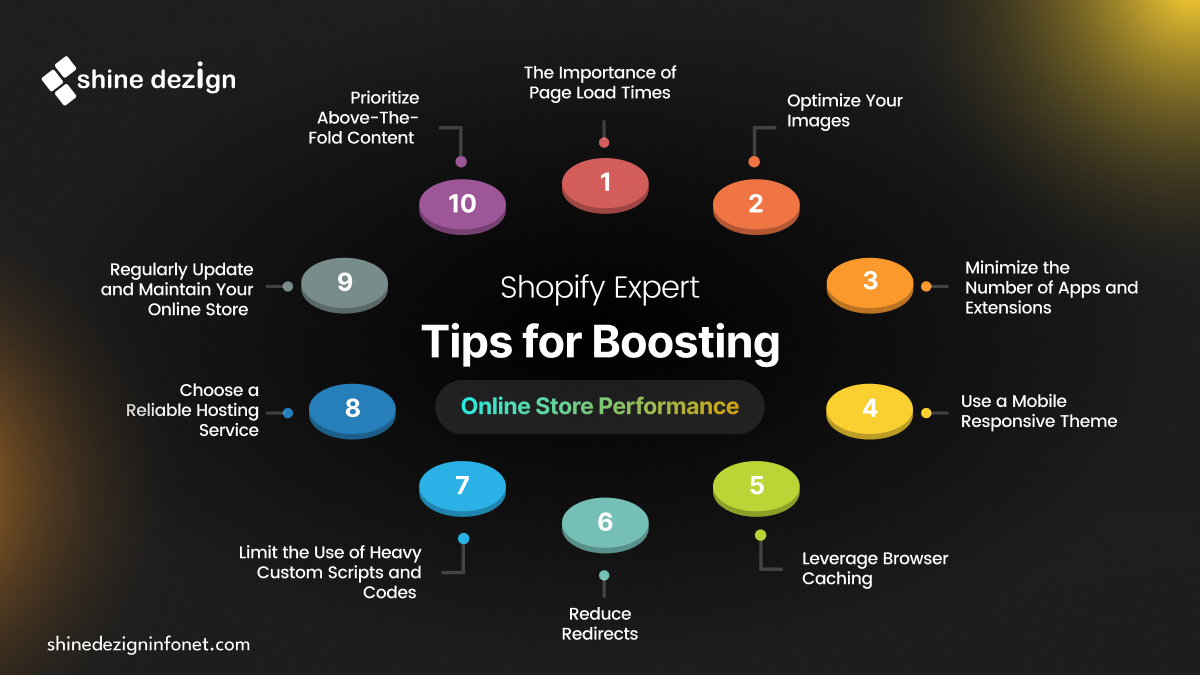 Now that you have been convinced of the benefits of hiring a Shopify expert for performance optimization, here are some tips to help you make the right decision.
Check for reviews and testimonials
Start by checking for reviews and testimonials from past clients. Genuine feedback provides valuable insights into an expert's competence, reliability, and the quality of their work.
Ask for case studies or past performance results
Never be afraid to request case studies or samples of prior performance enhancements from possible experts. A major indicator of their skill is demonstrable proof of their capacity to produce outcomes.
Ensure clear communication and understanding of your goals
An optimization project's success depends on effective communication. Make sure the specialist you select comprehends your objectives and can clearly explain their strategy. Clear communication reduces the chance of misinterpretations and guarantees that the project follows your vision.
Compare pricing but prioritize expertise and quality
Budgetary concerns are important, but it's crucial to put knowledge and quality above cost. The lowest solution might not always yield the greatest outcomes. Look for an expert who has the necessary training and experience for the position.
Ensure they provide post-optimization support
Finally, inquire about post-optimization support. Make sure that the expert offers ongoing support, including periodic check-ins and updates to maintain your store's performance as it evolves.
Conclusion
Shopify speed optimization of your Shopify store is not just a technical consideration; they are critical elements that can make or break your business. A slow-loading store can lead to lost client trust, revenue loss, and decreased search engine rankings.
However, by investing in Shopify experts of Shine Dezign Infonet-Shopify Development Services who possess the technical expertise, experience and tools required to optimize your store's speed, you can create a positive first impression, enhance your SEO rankings, cater to mobile users, reduce bounce rates and foster customer retention and repeat business.