As an eCommerce store owner, you may know something other than a sluggish-performing website will work for your business. According to experts, 40% of people switch websites that take more than 3 seconds to load, whereas a 1-second delay in page response can result in a 7% reduction in conversions. (Source:
neilpatel.com
). This is where boosting your online store performance comes into play, and we are here to equip you with cutting-edge strategies.
Whether you are a seasoned entrepreneur or just starting into digital retail, clunky navigation, slow load times, and other performance can frustrate your visitors, affecting your reputation and sales. Let's explore the 11 Shopify expert tips that will help you to set up your e-commerce store.
Shopify Expert Tips for Boosting Online Store Performance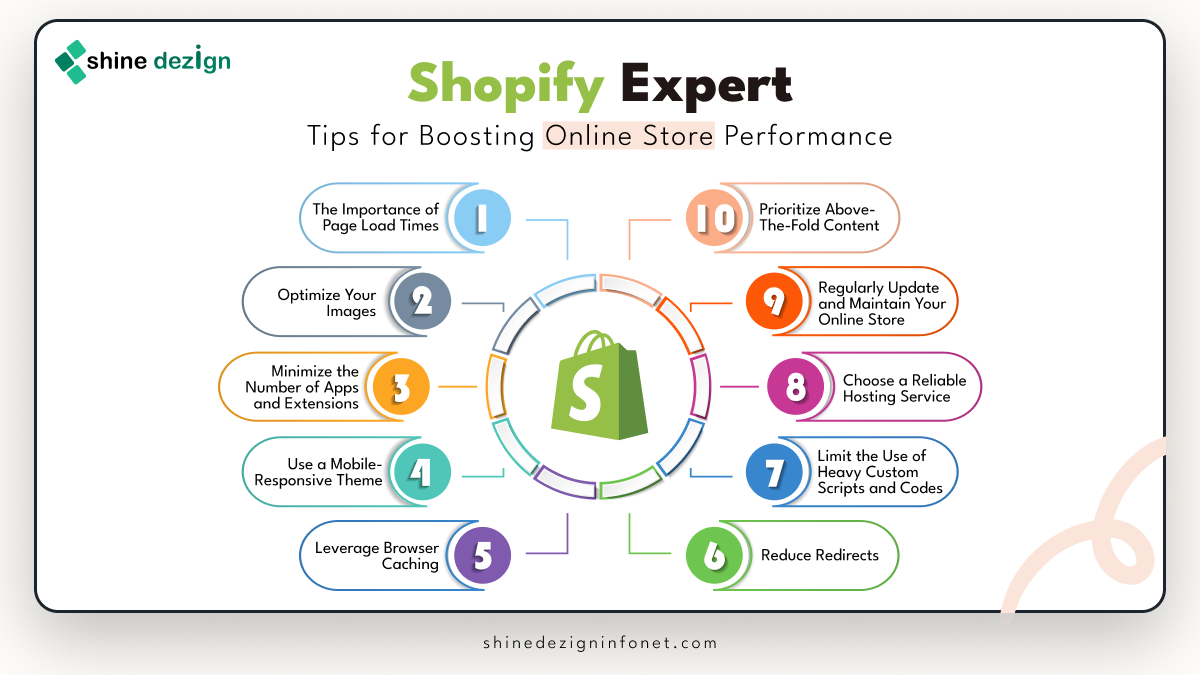 1. The Importance of Page Load Times
In this fast-moving world of online shopping, attention spans are less, and options are plenty; the significance of page load times must be balanced. As per the studies, a mere delay of one second in your page's load time can result in a notable 7% reduction in conversions.
So, imagine the impact of a two- to three-second delay and its impact on your store. With every additional delay second, the impatience and frustration of potential clients increases, leading them to reconsider their buying decisions or, worse, abandon their carts altogether. This is about more than losing sales but also about user trust and engagement
2. Optimize Your Images
High-quality images are of supreme importance for seeking the attention of potential clients and effectively highlighting your products. However, the contradiction here is that while these images enhance the visual appeal of your eCommerce store, they can also affect performance by increasing load times. So, the solution here is to optimize your ideas efficiently.
Striking the balance between image quality and file size is essential. High-resolution images can be significant in file size, leading to slow load times. You can reduce the file by employing image compression techniques without compromising the visual quality. This can be done through tools and software that remove unnecessary metadata and optimize the image's encoding.
3. Minimize the Number of Apps and Extensions
The Apps and extensions that promise to enhance functionality must be addressed. Still, these tools have many features that can streamline business operations and boost the user experience. However, it's vital to tread cautiously when including them in your Shopify store. As we say, "less is more" relates to the number of extensions and apps you integrate.
Each app introduces a new layer of code and additional scripts and resources that are fetched upon page loading. This accumulation of other scripts and resources might irritate customers looking for quick and smooth interactions, resulting in revenue and sales loss. So, minimizing the number of apps and extensions is one of the recommended Shopify expert tips for online store performance.
4. Use a Mobile-Responsive Theme
To ensure your e-commerce store attracts and retains mobile users, adopting a mobile-responsive theme is crucial. Such a Shopify theme adjusts your website's store layout and content to provide an optimal user experience across various resolutions and screen sizes.
Mobile responsiveness goes beyond just adapting to smaller screens; it also involves simplifying navigation, optimizing page load times, and ensuring that buttons and links are easily tappable. If you need help using a mobile-responsive theme, you can find Shopify experts and developers who can help you create a mobile-responsive theme.
5. Leverage Browser Caching
Browser caching is a powerful tool that can significantly boost your online store's responsiveness and speed. Whenever users visit your site, elements like stylesheets and scripts are temporarily stored in their browser's cache. This means that on subsequent visits, these elements don't require to be downloaded again, resulting in faster load times.
To implement browser caching on your Shopify store and boost Shopify speed, you may need to modify your server's settings or use a caching app or service. Also, by reducing the need for browser caching, data transfer can drastically improve the user experience and help you retain visitors.
6. Reduce Redirects
Reducing redirection is another crucial Shopify expert tip, as excessive redirects can lead to performance issues. Each redirect generates an additional HTTP request, which can lead to performance issues. Regularly audit your site for unnecessary redirects to maintain an efficient and lean redirect structure.
Clean up and consolidate them wherever possible to minimize their impact on performance. Additionally, consider using server-side redirects instead of client-side redirects (JavaScript-based) whenever applicable, as they are more efficient and faster.
7. Limit the Use of Heavy Custom Scripts and Codes
This is also an essential Shopify expert tip, as custom codes and scripts can add unique functionalities and features to your Shopify store and be a source of performance bottlenecks. It's crucial to strike a balance between performance optimization and customization.
It would help if you determined whether each piece of custom code or script is essential for user experience or business operation. If it's not, think about optimizing it or getting rid of it to lessen its effect on load times. It would help if you employed lightweight and effective coding techniques when adding customized aspects to your shop. This guarantees a more seamless user experience and eases the load on your hosting server.
8. Choose a Reliable Hosting Service
Behind every high-performing Shopify store lies a dependable hosting service. Your choice of hosting provider may impact your store speed, performance and security. Opt for a hosting service renowned for its exceptional uptime, reliability and robust security features.
A reputable hosting service will also offer quick support and automatic backups, which are invaluable in maintaining the security and health of your store. Also, investing in quality hosting is a foundational step in optimizing your Shopify store's performance.
9. Regularly Update and Maintain Your Online Store
This Shopify expert tip of regular updates and maintenance are not optional but essential for the performance of your Shopify store. Think of your online store as a living organism in the digital realm that requires attentive care to thrive.
Regularly updating your Shopify apps, theme, and other integrations ensures that the latest security patches are in place, fortifying your store against potential breaches. Also, outdated elements can contribute to sluggishness in your store's performance. You can also hire a Shopify expert if you want to maintain your online store and remember to check the Shopify expert's cost before selecting the expert.
10. Prioritize Above-The-Fold Content
The first impression of your online store matters immensely. Users who land on your website typically form an opinion within seconds. This is where the concept of "above the fold" becomes vital. 
Above the fold refers to the portion of your web page that is immediately visible without scrolling. It's the initial glimpse users get of the site, significantly influencing their perception of your brand and their decision to stay or leave.
11. Monitor Your Store's Performance Regularly
Regular performance monitoring is not an optional task but a fundamental practice in eCommerce. It's a proactive measure that ensures the vitality of your Shopify store. By monitoring, you can catch issues early, optimize user experience, and stay ahead of the curve in this competitive digital marketplace. It's the lifeline that keeps your online store growing and thriving. 
Conclusion
The above-mentioned Shopify expert tips are valuable for any eCommerce business looking to thrive in the competitive digital landscape. These insights include design aspects, from

optimizing

to enhancing user experience and implementing effective marketing strategies. By following these Shopify experts' tips, online store owners can expect improved conversion rates, client satisfaction, and tremendous success in the online marketplace.



Still confused, and want to get more tips and guidance about the Shopify store? Don't worry, ShineDezign Infonet stands as your unwavering ally, ready to propel your online store to new heights of success. With an unwavering commitment to delivering unparalleled excellence and harnessing the latest technologies. Take the next step towards unlocking the full potential of your Shopify store by reaching out to us. Your success is our priority.