Search engine optimization (SEO) is the most profitable marketing channel with the highest ROI from organic traffic. According to statistics, 43% of e-commerce traffic comes from organic Google search results, and eCommerce SEO has the highest return on investment of 1600%, compared to paid search. (Source: Zipdo.co )
Being highly cost-effective and productive, most online marketers fully leverage their efforts to rank their website on the first page of Google, creating high competition. So, to organize your eCommerce Store on Google's page #1 of SERP, you need to hire a Shopify SEO expert. This comprehensive guide for SEO optimization will help you walk through the process of choosing a Shopify SEO expert.
Understanding SEO for Shopify
Before exploring choosing a Shopify SEO expert, it's essential to have a basic overview of Shopify SEO optimization. SEO incorporates optimizing various aspects of your online Store like metadata, keywords, site structure, and content to increase its visibility in the Search engine rankings. Effective Shopify SEO can lead to more organic traffic, higher orders, and maximized conversion rate.
Identifying Your SEO Requirements
The first step to enhance your Shopify store's SEO strategy is clearly defining your specific SEO requirements. SEO includes various factors, including on-page SEO, technical SEO and content marketing. Differentiating which areas need improvement will enable you to pinpoint the right Shopify SEO experts with the expertise and skills that streamline your goals. Let's explore each of these factors to help you understand the significance:
Keyword optimization and On-Page SEO
One of the significant factors of SEO is keyword optimization. Keyword research enables you to identify the terms and phrases your target audience is searching for. Incorporating these keywords into your blogs, product descriptions and category pages can increase your Shopify store's visibility in search results.
Technical SEO
Technical SEO focuses on your website's technical factors, ensuring it's search engine friendly; elements like mobile optimization, page speed, and site structure play a vital role in how search engine increases the rank of your site. A Shopify SEO expert can address these technical factors to enhance your site's performance.
Content Marketing
Creating high-quality, reliable content is a vital SEO component. Whether it's informational, educational, or blog posts, engaging content always retains and attracts clients while improving your search results and rankings.
Benefits of Hiring Shopify SEO experts for your Store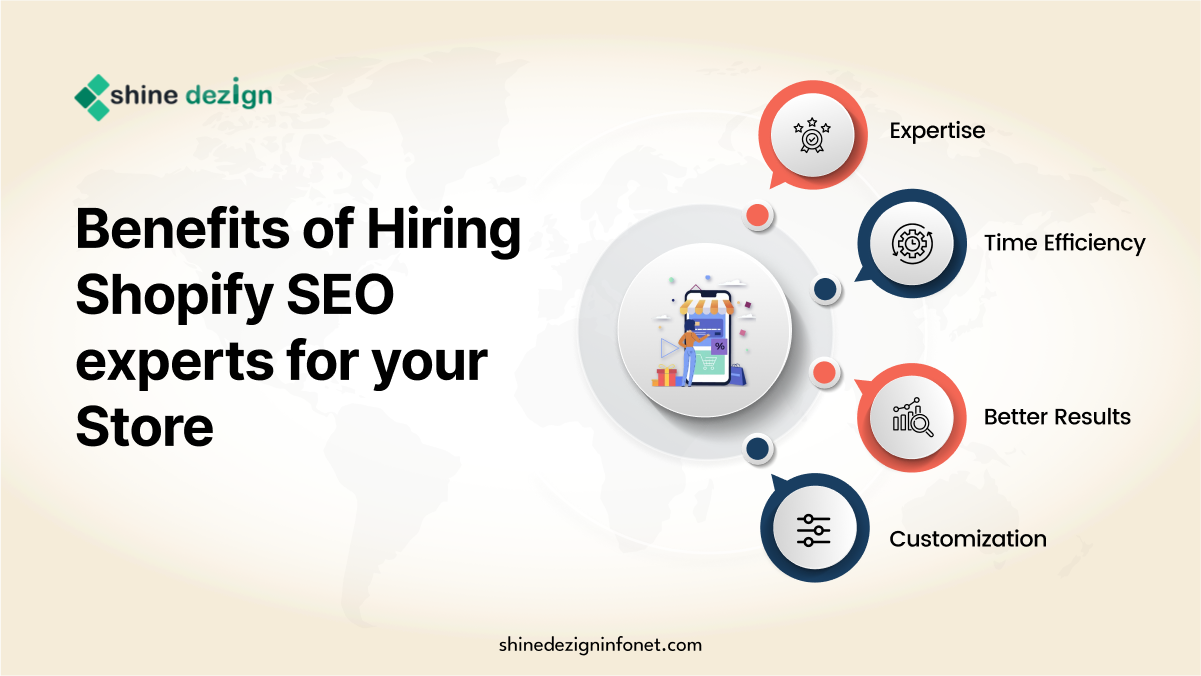 Choosing a Shopify SEO expert provides several benefits, including;
Expertise
Shopify SEO professionals deeply understand the complexities of optimizing Shopify stores. They are well-versed in the ever-evolving optimization world, staying updated with the latest trends and search engine algorithms. This expertise enables them to devise and execute strategies that keep your Store competitive online.
Time Efficiency
Implementing effective Shopify SEO optimization strategies can be time-consuming. Shopify SEO experts are well-equipped to handle the technical factors of your business. This delegation of responsibilities enables your business to operate smoothly while benefiting from a robust online presence.
Better Results
Hire Shopify SEO expert who brings their knowledge, wealth and experience to the table, which translates into tangible results for your Shopify store. Their proficiency in optimizing search engines can lead to improved rankings, increased organic traffic and higher conversion rates.
Customization
Every Shopify Store is unique, with its distinct target audience, goals, and products; SEO experts recognize this tailor and individuality of their strategies accordingly. They conduct thorough analyses of your Store's specific objectives and requirements. This personalized approach enhances the effectiveness of SEO efforts, aligning the theme with your business's unique needs.
Types of Shopify SEO Experts
When choosing Shopify SEO experts, it's vital to look for different types of Shopify SEO experts.
Freelancers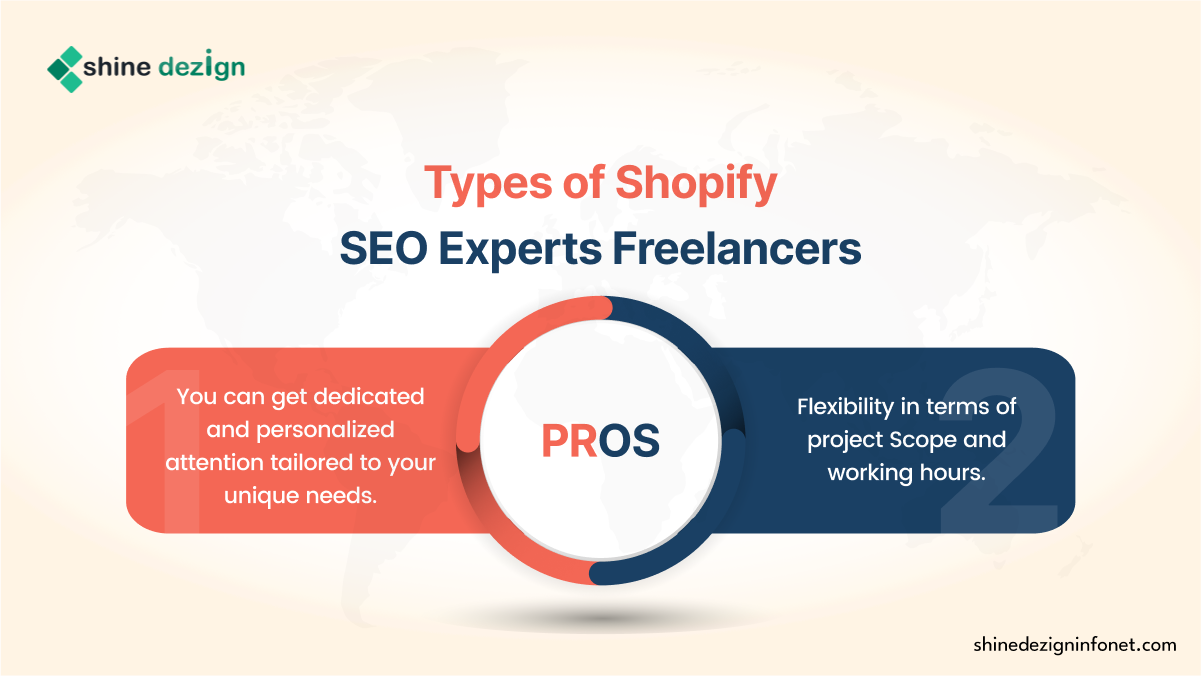 Freelancers are independent SEO specialists who offer customized services. They are often an excellent choice for small to medium-sized businesses or startups with specific SEO requirements.
Pros
- You can get dedicated and personalized attention tailored to your unique needs. - Flexibility in terms of project Scope and working hours. - Enabling them to make a cost-effective choice for business with budget constraints.
Cons
- Might need access to the same tools or resources as an agency. - If they are handling multiple projects, they may be less accessible.
Shopify Development Agency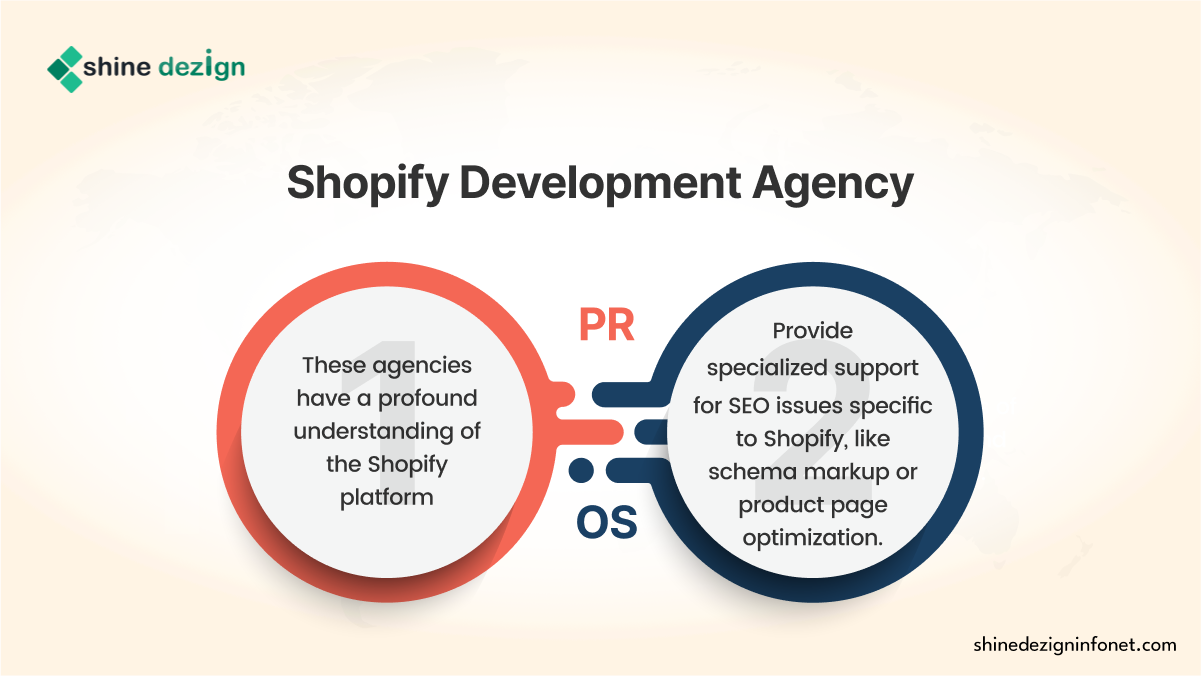 Choose a Shopify SEO expert specializing in building and maintaining Shopify stores but often offering SEO services. Also, a Shopify development agency like Shinedezign infonet can seamlessly implement technical SEO improvement with the Shopify environment, ensuring compatibility and performance.
Pros
- These agencies have a profound understanding of the Shopify platform, which can be valuable for SEO optimization on Shopify Stores. - You can get Shopify Development and SEO services from a single agency, streamlining your project. - Provide specialized support for SEO issues specific to Shopify, like schema markup or product page optimization.
Cons
- May have higher fees but can take responsibility for your project thoroughly.

How to Choose the Right Shopify SEO Expert?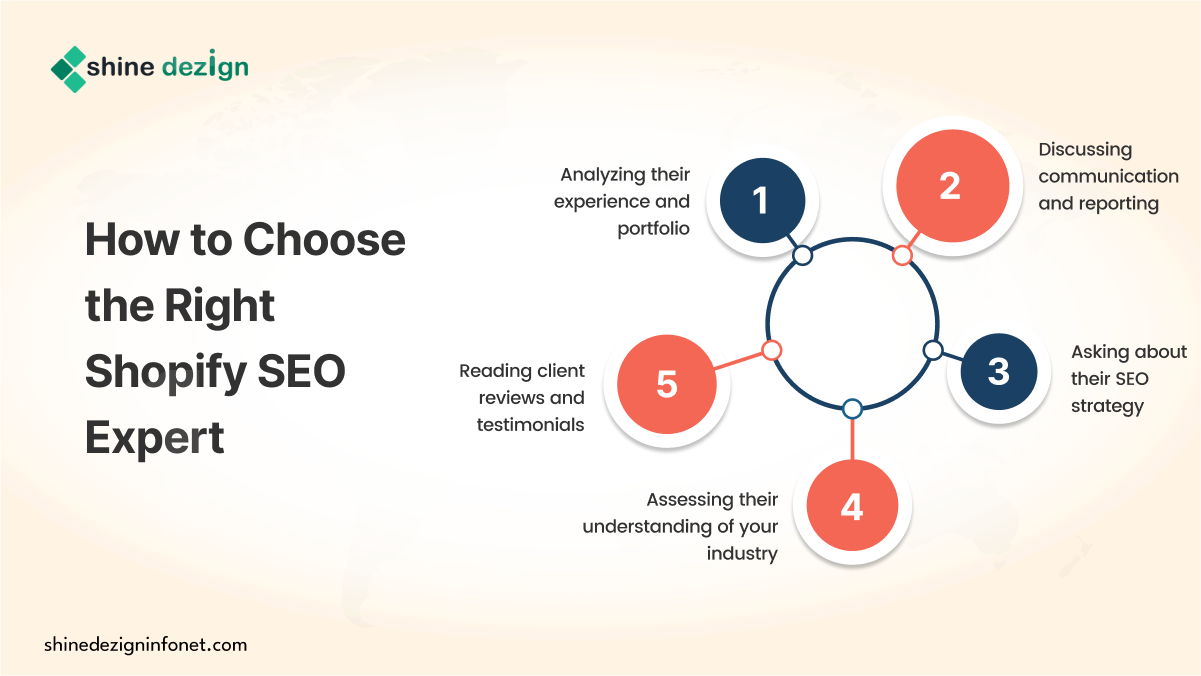 Choosing a Shopify SEO expert is the crucial step for the success of your SEO efforts; consider these factors when making your choices.
A. Analyzing their experience and portfolio
Reviewing a potential SEO expert's experience and portfolio is essential to understanding their capabilities. Looking for the following:
Ensure that their past work streamlines with your niche or industry. An expert with experience in your field is more likely to understand the unique opportunities and challenges. Request portfolio, case studies or examples of successful SEO projects they have handled. This will give you insights into their strategies and the results they have achieved for other clients.
B. Reading client reviews and testimonials
Reviews and testimonials can help you in your decision-making process. This will help to gauge their reliability and reputation. Don't hesitate to contact previous clients with doubts or questions about their experience.
C. Assessing their understanding of your industry
An SEO expert familiar with your excellent will be better equipped to optimize your eCommerce Store effectively. They should clearly understand your target audience and industry-specific SEO strategies.
D. Asking about their SEO strategy
They understand their SEO approach, including keyword research, on-page optimization, and backlink strategies. A good SEO expert should be able to explain their methodology in a way that streamlines your goals.
E. Discussing communication and reporting
Ensure that they offer transparent reporting and regular updates on progress. Effective communication is the key to implementing a successful SEO partnership.
Working with Your Shopify SEO Expert
Before deciding to choose a Shopify SEO expert, effective collaboration and interaction with your SEO professional are essential:
A. Regular Updates and Communication
Maintain open interaction of communication to stay informed about progress and any issues. Regular updates ensure everyone is on the same page and can make necessary adjustments.
B. Collaborative Approach to SEO
Work together to align SEO efforts with overall business strategy. Hire a Shopify expert who understands your brand values and long-term goals to develop a plan that fits seamlessly into your business.
C. Monitoring Progress and Results
Continuously track key metrics and performance like keyword ranking, organic traffic, and conversion rates. These elements will help you determine the effectiveness of your SEO techniques or strategies and make informed decisions.
D. Handling Issues and Revisions
Address any challenges promptly and be open to making necessary changes. SEO is an evolving field, and your strategies may need upgradation and adjustment as per search engine algorithms.
Common Mistakes to Avoid
To maximize the benefits of Shopify SEO optimization, avoid these common mistakes;
Avoiding Mobile Optimization
You must ensure your Store is mobile-friendly for better user experience and ranking. Google prioritizes mobile-friendly websites, so make sure you optimize your website for mobile.
Ignoring Technical SEO issues
Ignoring Technical SEO issues like crawl errors, page speed, and broken links can hinder your SEO efforts. This may also impact user experience and improve bounce rates.
Neglecting Content Marketing
Relevant content is the central aspect of SEO success. Investing in creating informative, engaging and shareable content that resonates with your target audience.
Focusing Only on Rankings
While high ranks are vital, the ultimate goal is to drive revenue and conversions. Don't get too fixated on rankings; focus on the bigger picture of growing your business.
Wrapping Up
Following this ultimate guide and hiring the right Shopify SEO experts, you can position your online Store for long-term success in the competitive eCommerce industry. Stay committed to continuous improvement, monitor results, and modify your strategies to stay ahead of the competition. So, to achieve success in your Shopify store, you may need to hire a Shopify SEO expert who can drive growth in your business; you can unlock your store's full potential and achieve sustainable development.
ShineDezing Infonet- Shopify development agency, which offers proven results with the best SEO strategies; you can Hire Shopify SEO experts to cater to your business operations. After all, your success is our success!