Table of Contents
With the increasing use of mobile devices for online shopping, having a mobile-responsive Shopify store is no longer an option; it's necessary. As mobile now accounts for
50.3%
of all e-commerce traffic.
(Source:
Shopify.com
)
Shopify is the leading eCommerce platform providing a robust ecosystem for businesses to establish online stores. However, developing a mobile-responsive design that adapts to various screen sizes and provides an exceptional user experience is a complex task.
This is why hiring Shopify experts and developers comes into the picture. In this article, we will walk through how Shopify experts can help you develop mobile-responsive Shopify store design.
Understanding Mobile-Responsive Design
With the rising trend of mobile Shopping, it has become vital for eCommerce businesses to prioritize mobile responsiveness in their website development strategy. As per the recent statistics by oberlo.com, mobile e-commerce sales are projected to reach $3.56 trillion by 2021, predicting over 72% of total e-commerce sales.  
Mobile responsiveness is crucial in providing a seamless user experience, directly affecting conversion rates. A mobile responsive website enables users to navigate the website and make purchases without barriers. A poorly developed and designed website that is not mobile optimized can lead to losing revenues and leading sales due to frustrating user experience. 
Apart from this, Shopify store design with mobile optimization also plays a vital role in Search Engine Optimization. Google's search algorithm prioritizes mobile-friendly websites in its search results, meaning having a mobile-responsive website can improve your search engine ranking.
Shopify: A Platform Built for Mobile 
Shopify, a renowned name in the eCommerce industry, understands the importance of mobile responsiveness in today's thriving digital world. In a world where smartphones are an integral part of client's lives, having an eCommerce that easily adapts the different screen sizes and device types is crucial.  
Shopify is committed to providing a robust mobile-responsive foundation for all its users. This mobile-first approach is not just a trend but necessary to thrive in the online competitive world. 
However, it's vital to consider that having a mobile-responsive foundation is just the start of creating and developing an outstanding mobile shopping experience. While Shopify takes care of the technical aspects, businesses often turn to Shopify experts and developers to bring their mobile eCommerce strategy to the next level.  
These professionals bring their expertise to enhance and optimize the mobile shopping experience, tailoring it to unique requirements and preferences.
Also Read: How to Start a Shopify Ecommerce Store?
The Value Proposition of Shopify Experts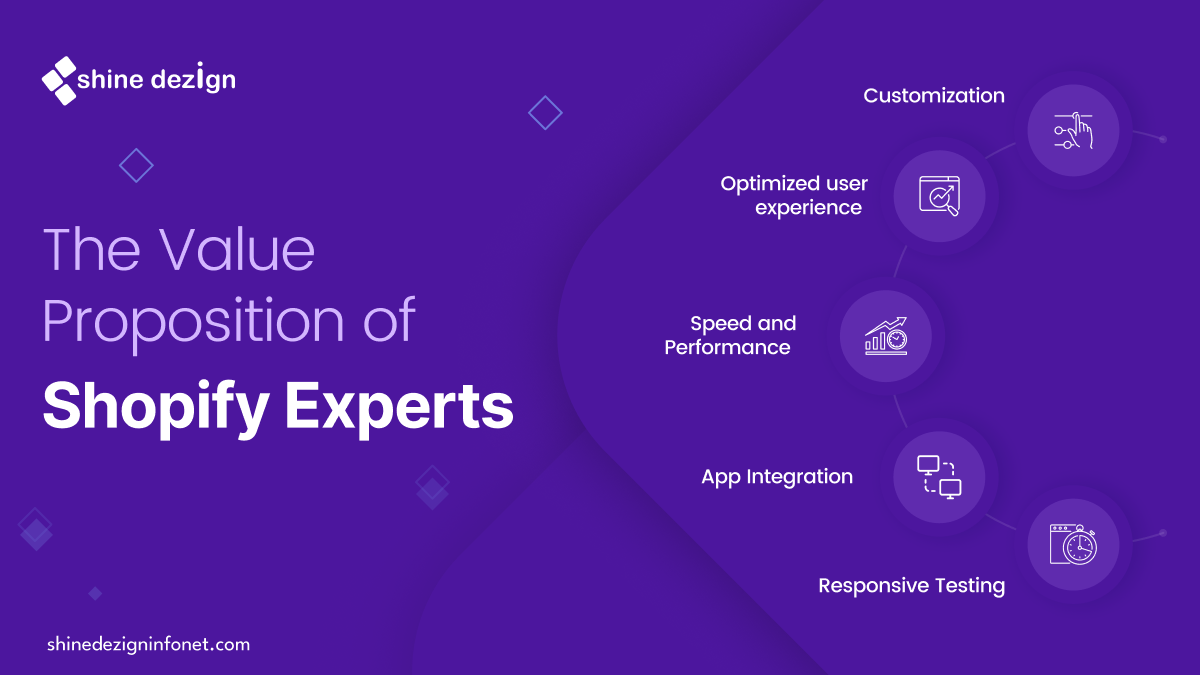 Shopify experts for store design are experienced professionals proficient in various factors of Shopify development, including mobile-responsive store design. This expertise goes beyond basic design principles and extends to the complexities of the Shopify platform. Here are the key value propositions that Shopify experts bring to the table:  
Optimized user experience:

 
Mobile users have specific behaviors and preferences that Shopify developers know well. They can optimize your store's design and layout to serve mobile users, enabling a seamless and user-friendly experience.  
Also, this optimization incorporates responsive design, where the store adapts gracefully to various screen sizes, ensuring that mobile users can easily access and navigate your products or services.  
Customization: 
Shopify experts deeply understand the platform's capabilities,
enabling them to create a unique and tailored design for your online Shopify store. They can align the strategy with your identity and brand, ensuring that your store stands out and maintains a consistent feel and look.
Speed and Performance:  
Mobile users usually don't like slow-speed websites. Shopify experts can optimize your store's performance for mobile devices, reducing page load times. This not only enhances the user experience but also helps in reducing bounce rates.
Improving page load speed also positively impacts search engine rankings, which can lead to better website visibility and organic traffic.  
App Integration:  
Shopify provides an extensive range of apps that can enhance mobile functionality. Shopify developers can identify the most relevant apps for your business and integrate them seamlessly into your mobile responsive store design.  
These apps can include mobile payment options, push notifications, added convenience to engage users and chat support to address customer inquiries promptly, all of which contribute to an improved mobile user experience.  
Responsive Testing:  
By identifying and addressing any compatibility issues, Shopify professionals guarantee that your store is accessible and functions perfectly for all users, regardless of their device. This meticulous testing helps to maintain customer satisfaction and trust.  
Also, Shopify professionals conduct thorough testing across different screen sizes, mobile devices and platforms.
Challenges Faced in Mobile-Responsive Design 
Creating a mobile-responsive Shopify store design has its challenges. Some common hurdles include: 
Content Prioritization:
Selecting which content to prioritize on smaller screens can create obstacles. Shopify professionals utilize their experience and expertise to ensure the most vital and reader-friendly information is easily accessible.  
Image Optimization:
Images play a crucial role as many websites' performance lowers due to image quality. Shopify experts know which image size and quality will maintain the page speed. They apply techniques to balance image and mobile load times.  
Navigation Complexity:
Simplifying navigation without sacrificing functionality is a delicate balance. Shopify developers design intuitive menus and navigation paths for mobile users.
Future Trends: The Evolution of Mobile Shopping 
The mobile shopping landscape is set to skyrocket in upcoming years. As technology advances and consumer preferences change, Shopify experts stay on the cutting edge of eCommerce trends. Some emerging trends in mobile Shopping include:
Augmented Reality (AR) Shopping: 
Augmented reality can transform the eCommerce landscape by offering a more immersive shopping experience by overlaying virtual objects onto the natural world through a camera. AR offers Shoppers a more engaging and interactive way to assess products.  
Voice Commerce:
With the rapid increase of smart devices like Amazon Echo, Google Home, and Apple's HomePod, voice-activated Shopping is set to be the next frontier in mobile e-commerce.  
This provides convenience, especially for multitasking people or those with accessibility requirements. It simplifies the shopping experience as users can shop while doing other activities. 
Progress Web Apps (PWAs):
PWAs combine the best of mobile apps and the web. They can be accessed via a browser but offer functionalities mainly associated with native apps, such as push notifications and offline access.  
PWAs can be designed to work offline or with low-quality networks. This ensures that users can still browse products and add them to their cart without a stable internet connection.
Summing Up 
A mobile-responsive Shopify store design is essential for any e-commerce business looking to thrive in today's mobile-driven world. While Shopify provides a strong foundation, the expertise of Shopify experts and developers is invaluable in creating an exceptional mobile shopping experience. Their ability to customize, optimize, and adapt to evolving trends ensures that your Shopify store meets current mobile standards and remains competitive in the future of e-commerce. 
Ready to design a mobile responsiveness Shopify store? Shinedezign, an experienced Shopify development agency, has the best experts to help you make your store more productive and profitable.